Automotive racing is a dangerous sport in itself, with crashes and explosions being a constant threat to drivers. However, most motorsports pale in comparison to National Hot Rod Association (Nhra) drag racing series where drivers basically strap themselves into purpose-built mechanical rockets with thousands of horsepower on tap.
A freak accident
During the NHRA New England Nationals held late last week, a terrifying explosion occurred on one of the Funny Cars in the middle of a qualifying run. The run was for the weekend's event at the New England Dragway. The car was driven by dragstrip veteran Courtney Force, the wife of IndyCar Series driver Graham Rahal.
Despite the big engine explosion that ripped the vehicle to shreds, the car was still able to cross the finish line at 330 mph. The vehicle was clocked at a maximum speed of 331.5 mph before the explosion blew the entire body off the vehicle's frame.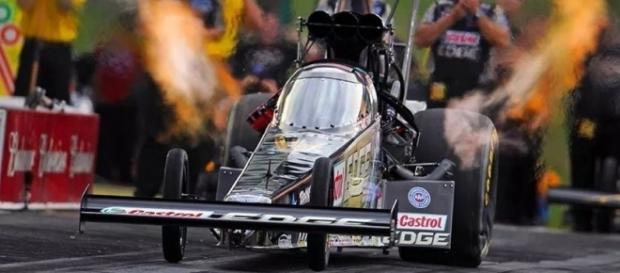 WOW! @CourtneyForce walks away from this HUGE explosion during Q1 at the #NewEnglandNats & takes the top spot!
WATCH Q2 on @FS1 at 7:30p ET! pic.twitter.com/Q4eYKsoWZJ

— #NHRA (@NHRA) June 2, 2017
Walking out alive
After the explosion, the car still managed to drag itself for a few hundred feet before eventually coming to a stop. A few seconds later, Force climbed out of the wreckage, walked away, and even gave a wave to fans who were still in shock after having witnessed the terrifying explosion.
After being checked by medics on the scene, Force was found to have only suffered minor injuries to her hands following the unbelievable accident.
In an interview shortly the qualifying rounds, Force revealed that the explosion started when one of the vehicle's fuel lines had burst. In spite of the harrowing ordeal, the 28-year drag racer still managed to joke about the entire thing and mentioned that she wasn't really expecting to drive a "Chevy convertible by the end of the day."
Still counts
While the vehicle is a complete wreck, Force's run was still counted and she earned the top qualifying speed during the event at 331.53 mph.
Force was able to complete the run with an elapsed-time record of 3.842 seconds. Force's husband immediately went to social media and expressed just how glad he was that his wife was safe and mentioned that incidents like these aren't in no way fun for both of them.
Following the incident, Rahal became the first Indycar driver to complete the doubleheader sweep of the Chevrolet Detroit Grand Prix that was held over the weekend. The driver dominated the race by leading 96 out of the 140 laps over two races held at the 2.35-mile Raceway of Belle Isle Park.
Dreams do come true. A sweep in Detroit, will never forget this weekend the rest of my life! Thanks @RLLracing! https://t.co/Batxy6JPcP

— Graham Rahal (@GrahamRahal) June 5, 2017