Tristan Thompson proves playoff value to Cleveland Cavaliers
The veteran big man had a huge Game 1 of the Eastern Conference Finals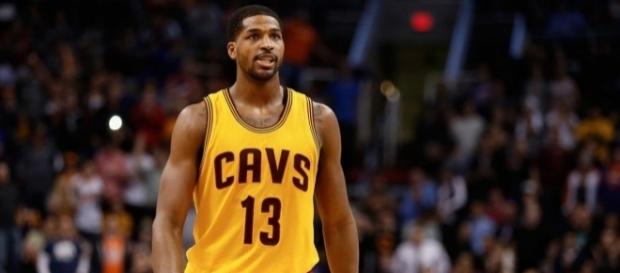 #Tristan Thompson is not generally seen as the first option for the #Cleveland Cavaliers -- or the second -- or the third, or even the fourth. He may arguably be just as important to the team as any other player, though - including LeBron James. On Wednesday night, he proved it with one of his biggest games of the year. In case it wasn't clear, winning the Eastern Conference Finals will have a direct tie to how the team's starting center performs against the Boston Celtics.
Big night from Thompson
Thompson put up 20 points and nine rebounds in Wednesday night's Cavaliers victory. His scoring came on a perfect 100 percent shooting night from the field, making all seven of his field goals and six of his ten free throws.
He also dished two assists and drew just one personal foul on the night.
More importantly, perhaps, he set a tone for the game. In the third quarter, Thompson and Celtics point guard Marcus Smart got into a tiff. Referees had to separate them after they got in each other's faces. They were both assessed a foul, but got into it again just a few moments later, with the Cavaliers big man drawing the sole foul that time. His play set a physical tone for his team, which some people feared would be complacent following almost a week and a half off. Turned out, that would not be the case with their big man leading the aggressive charge.
Dominant series ahead for Thompson
Thompson will have every opportunity to leave his mark on the Eastern Conference Finals. The Celtics don't have a dominant interior presence to counter Thompson, with Al Horford preferring to stay away from the hoop a lot of the time.
Wednesday night marked the Cavaliers center's highest scoring output of the postseason. If the Celtics aren't willing to get inside and bully the big man around, he is going to make them pay like he never has before on the offensive end.
Frankly, the Cavaliers might have a dominant series ahead as well. Beyond the fact that they are well-rested, they also match up very well with the Celtics, who may be running on fumes at this point. Cleveland's talent outweighs the Celtics' home court advantage, as does their recent championship pedigree, with most of the supporting cast back for the encore. Boston was a heavy underdog entering the series; with Game 1 in the books and the Celtics looking relatively lackadaisical on the court, the betting lines in Las Vegas are proving to be rather prophetic. #NBA