Nebraska baseball win, pair of Minnesota losses has huskers in driver seat
As if should be, the Big Ten conference regular season title is going to come down to the final day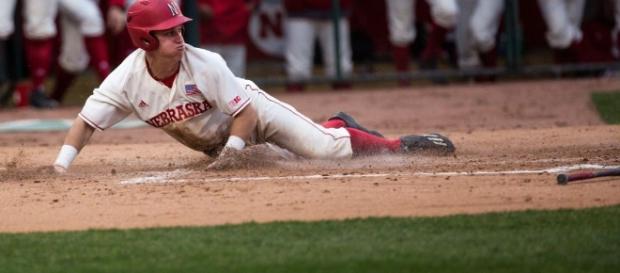 The #Nebraska baseball team came into Friday's game knowing the Minnesota Golden Gophers had already lost twice before the first pitch had been thrown in their own game. Those two losses meant that the Huskers could once again take over the driver's seat for first place in the Big Ten conference, despite a heart breaking and frustrating loss on Thursday night. The loss was made less frustrating because Minnesota could handle its own business. While the game on Friday might have taken a little more effort against a bad Penn State team than it should, Nebraska now finds itself one win away from winning the conference.
Friday fallout for Nebraska baseball
As Friday comes to an end, it appears neither Nebraska, nor Minnesota really wants to win the conference title.
That's the only explanation for the Huskers committing four errors in their series opener against the Nittany Lions while Minnesota lost 5-2 and 11-1 to Purdue on Friday.
To be fair, one of those two losses was a continuation of a losing game from Thursday night, but it was still a bit stunning to watch the Gophers choke away a chance to clinch the conference, right after Nebraska did the same. There was a time when it even looked like Purdue might even pull off a sweep as they took a 2-0 lead in what turned out to be the third game of the day for the two teams.
Saturday is the clincher for Nebraska
After trailing early in the Friday night game, Minnesota finally found the fight that has them close to winning the Big Ten baseball title. They not only made a comeback, but they came all the way back and blew the Boilermakers away in the final game of the #Regular Season.
That win didn't clinch anything for the Gophers though, thanks to the Huskers holding on and beating Penn State 3-1 on Friday evening. Minnesota is finished until the conference tournament thanks to moving a game up due to weather. Nebraska has one more game and it will kick off at 10 am.
Should the Huskers manage to pull of another victory, against the conference's worst team it would mean Nebraska has won the baseball regular season conference title for the first since joining the Big Ten. In fact, it would be the first time the school has won the conference title in any of the big three men's sports of baseball, basketball or football since they came over from the Big 12. The mission would be far from accomplished, as there would be plenty of baseball yet to play but it would be a step in the right direction for Darin Erstad's regime. #Big Ten Conference