Scott Stapp reemerges with full-throttle power, truth, and passion on Purpose For Pain
New single from lead singer and lyricist is layered with personal truths and high-powered riffs.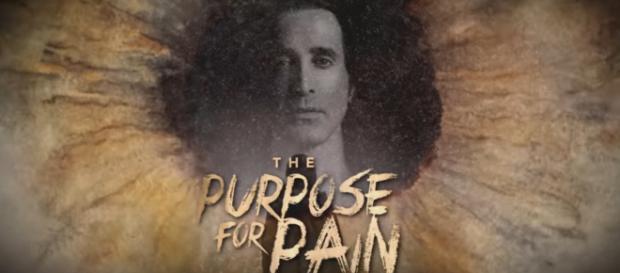 Scott Stapp appreciates the power of new beginnings more deeply than most can ever conceive. The frontman and lyricist, whose beloved anthems with Creed, and as a solo artist, have become spiritual fodder for millions, is celebrating another season of starting anew. The word was out last month that Scott Stapp had signed with Napalm Records, enhancing the label with Austrian heritage and an already-impressive enclave of artists, including Smashing Pumpkins and John Garcia.
Themes of hope through struggle resound through the stellar catalog of Scott Stapp as an artist.
The songs "My Sacrifice" and "One Last Breath" remain "must-hear" encores and the affirmation that "You're the proof of life!" from the title song of his 2013 solo album echo with the dual conviction of hope and accountability. The second solo album also yielded "Slow Suicide" as the first Billboard #1 for the hitmaker as a solo artist.
The six-year span since that solo album's success has been filled with both blessing and stark confrontations of truth for the composer. Following a drug-fueled downward spiral in 2014, Scott came to terms with his diagnosis of bipolar disorder, which had prompted him to years of self-medication.
Through the love and support of his family and commitment to sobriety with daily routines and contact with a sponsor, Scott Stapp thrived on stage and in the studio, mounting three tours through 2017 and rousing the same devoted fan base. Scott and his wife, Jaclyn, became new parents all over again with the arrival of Anthony, his namesake, in November 2017, welcomed by his older sister and brother.
Scott Stapp made the announcement himself on social media in the late evening on March 21, alerting that his first new single on his new label, "Purpose For Pain," was released and ready for purchase. No artist understands the pathos of those title words with the same empathy, and his fans are ready to feel his heart and every pounding beat.
Punch of truth
From the first echoing seconds of "Purpose For Pain," the pounding guitar and drum and bass line opener offer the first assurance that this is no namby-pamby, Church Lady testament to triumph over the dark side. The first imagery evokes sleeplessness "in circles of hell" from the torment of the mind and the realization of consequences. Scott Stapp's signature baritone entices listeners into his journey just as it did 20 years ago, "I lie awake because I know how it ends," one lyric describes, before the confession, "I shut every door but the right one/I fought the devil and he won."
This kind of brutal honesty might seem far-removed from the divine reverberating choruses of "Higher" or the prayer-closet intimacy of "Faceless Man," which many fans consider the superlative Creed masterpiece.
"Purpose For Pain," however, in no way depicts a man forsaking the divine. He is fighting for life with everything he has, opposing the dark forces against faith and the darkness of his own mental states. He relates his fall "in the abyss," and his declaration, "Not going out like this!" is a mantra to millions in personal battles and pitfalls of life to still look for the glimmers of light and the lessons that only pain can teach. Scott Stapp still is ministering to the masses. Inevitably, any survivor who transforms into a thriver learns to cherish the seconds of living dearly and slough off the setbacks without going under.
My new single #PurposeForPain is OUT NOW! Download it at https://t.co/PV2RMdms4S. New album "The Space Between The Shadows" is coming this July. pic.twitter.com/AiiWxonFLq

— Scott Stapp (@ScottStapp) March 22, 2019
Not a long wait
Scott Stapp gave fans more good news than just the heavy-metal drive of "Purpose For Pain" on release day. His visualization video for the song also included news that his album, "The Space Between the Shadows" will be out in July.
The exemplary musicianship of Scott's touring band, including lead guitarist Yiannis Papadopoulos, drummer Dango Cellan, and bassist Sammy Hudson, is displayed in fine form and will be featured in the music video for the song, due out in April.
The song is immensely radio-friendly for current formats.
Napalm Records refers to "Purpose For Pain" as a "bombastic 1st single" and promises that the planned full summer tour will draw steadfast fans to venues, allowing them to learn all the new songs by heart. A few dates are already announced on Scott Stapp's Facebook page.
Stapp can rest assured that fans will have every word committed to memory before the end of the summer, and more than that, his hope is that the music will bring "meaning and clarity" through the discovery of their own purpose through pain, and the "higher meaning" that "gives the strength to keep fighting. "
Scott Stapp's With Arms Wide Open Foundation furthers that personal intention through its support of military veterans and their families who struggle with drug addiction effects of PTSD, and suicide prevention.
Whether from the battlefield or simply waging the battles of everyday life, willing warriors are already waiting for the lessons to be learned in every song.
This news article has been verified through:
https://www.brothersinraw.com/single-post/2019/03/22/Sounds-Scott-Stapp-Purpose-For-Pain
https://twitter.com/ScottStapp/status/1108941369815359488