'Luke Cage' Season 2 clip show that Misty Knight and Colleen Wing team up
A new teaser clip shows Misty Knight joining forces with 'Iron Fist' supporting character Colleen Wing.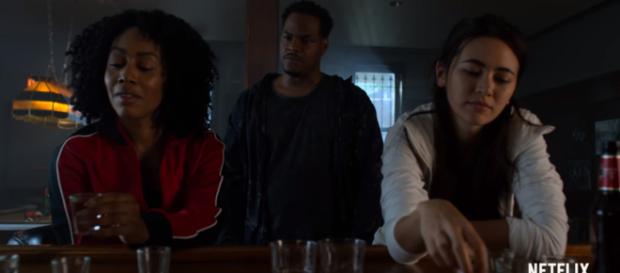 The latest updates and spoilers for "Luke Cage" Season 2 reveal a new teaser clip for the show featuring Misty Knight and "Iron Fist" supporting character, Colleen Wing. Colleen is the second character to guest-star in the show along with Danny Rand, the current Iron Fist. Their appearances will likely spur up the rumored spin-offs series such as "Heroes for Hire" and the "Daughters of the Dragon."
The second season will feature Luke Cage going up against a new threat named Bushmaster as he has the same abilities as the latter. Luke must push himself to stop Bushmaster and his gang from terrorizing Harlem by any means necessary.
Colleen and Misty, the Daughters of the Dragon
The clip from "Luke Cage" season 2 shows Misty and Colleen having a girls night out at a bar in Harlem when they are approached by a huge African-American man claiming that Misty put his brother in jail. The man provokes Misty and a bar fight ensues as Misty tries to cope with her missing right arm. She is eventually overwhelmed by the thugs and Colleen joins the fight to help her friend.
The video clip teased the possibility that Misty and Colleen will be working together as a tandem in the show, or possibly have their own spin-off on Netflix.
Both Colleen and Danny will be making guest appearances in "Luke Cage" leading to the fan speculations that audiences might see spin-offs of "Heroes for Hire" and "Daughters of the Dragon."
These characters met each other during the events of "The Defenders" mini-series as they struggled to stop the Hand from taking over New York City. Misty lost her right hand during their fight with the hand and she will be getting a cybernetic prosthetic arm.
Misty will help Luke stop Bushmaster and his organization, while at the same time keeping the bulletproof hero grounded and reminding him not to cross the line.
More on Mariah Dillard
GameSpot wrote an article for the second season of "Luke Cage" focusing on the antagonist of the series, Mariah Dillard a.k.a. Black Mariah.
Mariah was a prominent figure in the show's first season as Harlem's councilwoman who wants to help her community prosper, while in truth she wants to rule it. She and her cousin, Cornell Stokes a.k.a. Cottonmouth, run the city's club "Harlem's Paradise" as a front for their criminal activities in order to secure her funding. She is also responsible for Cornell's death and framed Luke for his murder.
The latter will return in season 2 along with Shades as they take over Harlem in the shadows while facing new competition from Bushmaster. Cast member Alfre Woodard stated in a group interview that she wants the audience see more about Mariah and she is excited how her arc will play in the second season.
"One of the fun things about being an actor is you get to behave in a lot of different ways," Woodard said." And, especially as a woman, especially as a southern woman, from the time you're three years old, everybody says to you, 'Be nice.
Be nice.' The never say that to the guys," Gamespot reported.