'Dragon Ball Super': Jiren's new physical features resemble another villain
Will Universe 7 win in the Tournament of Power in 'Dragon Ball Super?'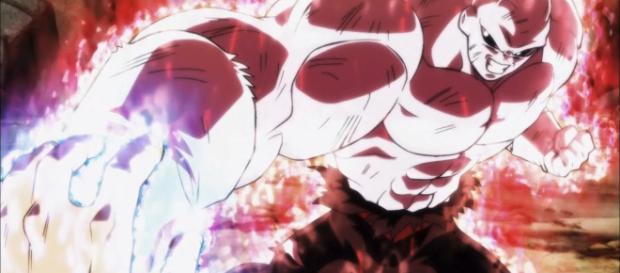 There are only a couple of episodes left until the Universe Survival Arc of "Dragon Ball Super" ends. The most recent episode that officially aired last weekend gave fans an explosive battle that really was worth the wait. For the second time in the Tournament of Power, Universe 7's Son Goku and Jiren the Gray face each other and shook and crushed the arena of the World of the Void. Interestingly, a new preview was recently released showing several scenes of Episode 130. Many fans were surprised to see the strongest Pride Trooper in his new look and some noticed that he reminds them of one of the series' villains.
Majin Buu
Right after the official airing of Episode 129 of "Dragon Ball Super," the team behind the successful anime released a preview for the upcoming episode. It featured the shirtless Jiren the Gray bulging with massive muscles all over his body. Interestingly, this new look of the powerful Pride Trooper remind fans of someone in the past installments of the anime. Jiren's pink skin and his ears look similar to that of Majin Buu. However, Majin Buu's power pales in comparison to the ace fighter of Universe 11.
Jiren the Gray is already super-powered and even Son Goku in the previous episode preview said that he is the strongest opponent he has ever fought against in the history of "Dragon Ball."
The 30-second video shows Jiren the Gray fiery and surrounded by a reddish aura. The Pride Trooper could unleash his true power similar to Toppo. He could be hiding within him the power of the gods of destruction that Toppo embraced in the previous episode—Hakai. While many compared the strongest Pride Trooper to Batman, it appears that his power resembles that of Superman. His eyes emitting a laser-like beam is a familiar power that many fans have already seen from the hero sent by Krypton to the Earth.
Hmm, strong resemblance, look at the ears, the color of the skin! pic.twitter.com/9aRGNGFgCV

— techcentrik (@techcentrik) March 5, 2018
Episode preview
As hyped by the team behind the popular anime series, Episode 130 is going to be epic. Aside from Son Goku mastering the Ultra-Instinct form and surpassing the level of some of the gods of destruction, Jiren the Gray will unravel his true power. The fan-favorite Saiyan's new powerful form already closed the massive power gap between him and his over-powered opponent.
However, with this most recent development, it appears that he will have a hard time defeating the ace fighter from Universe 11.
Meanwhile, Episode 130 of "Dragon Ball Super" is titled "The Greatest Showdown of All Time, The Ultimate Survival Battle." It is scheduled to air on March 18. This weekend, the anime will go on hiatus and will resume its regular programming a week later.
Dragon Ball Super Episode 130 Preview : "The Greatest Showdown Of All Time! The Ultimate Survival Battle!" pic.twitter.com/q2I4sfj7nN

— DBZ (@DBZClips) March 4, 2018