Meghan King Edmonds came under fire on Instagram earlier this week after she shared a family photo of herself, husband Jim Edmonds, and their daughter, one-year-old Aspen King Edmonds, attending a church service on Sunday morning. As fans of "The Real Housewives of orange county" may have seen, the reality star caused a stir after joking about bursting into flames upon entering the venue.
"Still in disbelief that we didn't burst into flames upon entering the church," Meghan King Edmonds wrote in the caption of her Instagram post on December 18. She then added that she and her husband, Jim Edmonds, should go to church with their daughter every Sunday -- so that they can "look this cute once a week." Right away, fans expressed their thoughts on the reality star's comments, slamming her for using the church as an excuse to look cute and recommending she go to church to grow her relationship with the Lord.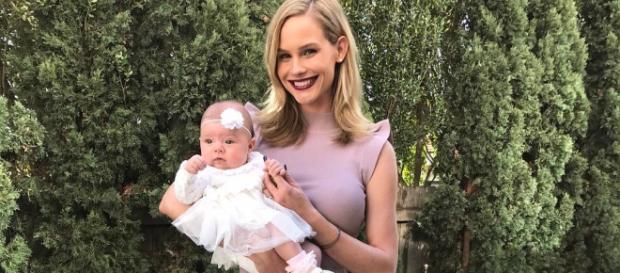 Why doesn't the Edmonds family attend church regularly?
"Sometimes God has nothing to do with not wanting to be a part of a religion or go to Church," Meghan Edmonds later wrote. Several commenters didn't understand the "Real Housewives of Orange County" star's outlook on church and felt she was being disrespectful with her odd statements. In addition to Meghan doing what she could to explain why she doesn't go to church, her husband Jim Edmonds also weighed in, telling a commenter on her post, "I don't go anymore because of a long story."
Meghan Edmonds is pregnant with her second child
Around the time that the 12th season of "The Real Housewives of Orange County" came to an end, the Edmonds family confirmed that they were expecting their second baby together, a son.
As fans may know, Jim Edmonds shares his four oldest children with his two previous wives and his youngest child, daughter Aspen, with Meghan Edmonds. As for their unborn child, the baby boy will be the sixth child for the former MLB player. The reality star underwent in-vitro fertilization before conceiving her first child because of her husband's past vasectomy. Then, earlier this year, she began IVF again before conceiving baby number two.
Meghan King Edmonds and her co-stars, including Vicki Gunvalson, Kelly Dodd, Shannon Beador, Tamra Judge, Peggy Sulahian, and Lydia McLaughlin, are expected to begin filming on the upcoming 13th season of "The Real Housewives of Orange County" sometime early next year.