Was Anna Duggar spotted wearing pants?
Fans think Josh's sister, Jinger, may have influenced the young mother to eschew the Duggar dress code.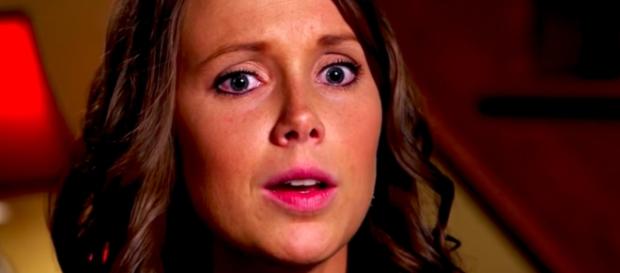 #Jinger Duggar shook up the Internet in April when she posted photos of herself wearing pants, which is absolutely against the Duggar dress code. The family has been very candid about the fact that women in their clan are not allowed to wear pants, and instead must stick to long skirts. The show has even seen Duggar daughters Jessa and Joy-Anna working out while wearing long skirts and attempting to make do. And now, a photo that Jinger Duggar has posted to her Instagram after visiting sister-in-law #anna duggar and brother, Josh, makes many fans of the show think that she may have influenced her to wear pants instead of the Duggar dress code of a long skirt.
Anna wearing pants on a day out?
Jinger Duggar, who has always been a keen photographer, took several artsy snaps of her time with her family and in-laws. And many people are thinking that she may have captured Anna Duggar wearing a pair of pants. In a photo taken at the Arkansas State Capitol Building two women are walking in front of the photographer. Because Anna is pregnant, many immediately spotted one of the women as her, though it has not been confirmed to be true. However, the woman is wearing pants, and not the Duggar-issued long skirt that is expected for women in their clan. Many have wondered if this means that Anna is coming out of her shell a little bit and expressing herself personally, or if this means that Jinger may have persuaded her to try and give wearing pants a go.
Is the "Counting On" star getting more rebellious?
Although it hasn't been confirmed that Anna Duggar is the one wearing pants in the photo, many have wondered if this means the star is getting a little bit more rebellious as she gets older. As she and Josh have had numerous difficulties in their marriage, including a cheating scandal that revealed that Josh had been seeking out women online for casual sex experiences, it may be possible that Anna has decided to veer away from the strict religion that produced someone like her husband. It is also possible that the pair have decided that dictating what a woman wears is a little bit archaic, as Jeremy Vuolo, Jinger's huband, has determined that God does not have time to sit around and judge women for wearing pants or anything else. Although the clothing Jinger has been wearing is considered modest by most people's standards, it is still a step in the rebellious direction for the Duggar daughter who has grown up in such a conservative family. #Counting On