So much has happened in the latest installment of "House of Cards" that makes us look forward to the next one.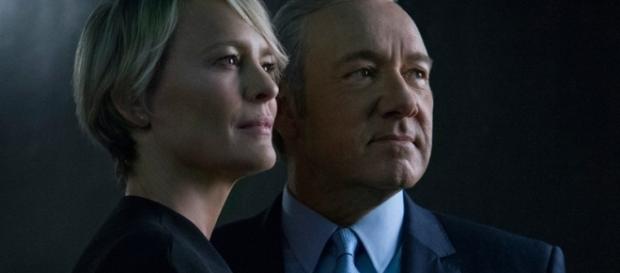 One of the most controversial political series of this generation just returned and gave us a new season packed with surprises and shocking revelations. We're talking about "house of cards" season 5 and its infamous characters Frank and Claire Underwood. The former is known for his wicked, immoral, vile, dishonorable (you name it) attitude, while the latter's character arc has been showing a big transformation since the show started. [Warning: Spoilers ahead!]
Claire 'The Murder' Underwood
Probably the most jaw-dropping scene in "House of Cards" season 5 was Claire's murder of Tom Yates. Yes, you got that right! The character, who was brought to life by Paul Sparks, was Claire's former lover who used to work for Frank.
The award-winning novelist was asked to write about the then president's life story before he took over the White House. While following Frank in conducting his presidential duties, Tom developed a close bond with the leader which did not please Claire.
After finishing the first part of Frank's story, Tom, unfortunately, failed to meet the expectations of the Underwoods who immediately fired him. It was after he returned to the White House that the writer developed an intimate relationship with the former first lady.
In the final moments of "House of Cards" season 4, Sparks' character temporarily left the picture before making a comeback in the fifth installment. Before his exit, Claire told him that she wanted him back and the novelist admitted he wanted the same thing. But during the fifth run of the political series, it was revealed that Tom was having an affair with the White House's tour guide.
'You portray us like a couple of monsters'
During his encounter with Claire, the novelist gave her a manuscript that contains some of the biggest secrets of the Underwoods. As expected, Frank was appalled and promised to take care of the situation. But before he could even make a move, his wife was already plotting her ex-lover's death.
When he asked Claire about the manuscript, the female lead candidly expressed her displeasure of the piece. Tom's meeting with the Underwoods appeared like he was digging his own grave. The two shared an intimate night before Claire killed her lover to stop him from spilling their dirty secrets.
Now that Tom is off the charts, the latest season of "House of Cards" has left the viewers wondering whether certain characters will return for the next season. When asked about Neve Campbell's character as Leann Harvey, the show's executive producers refused to confirm her death after the accident.
Showrunner Frank Pugliese played it coy and asked the viewers to wait for the sixth installment. Also, it is still unclear whether Catherine Durant will recover from her injuries in order to testify against the Underwoods.
Click to read more
and watch the video
or