Chris Blue, contestant on 'The Voice,' trends on YouTube with '24K Magic'
Contestant advances to semi-finals while Kelly Clarkson and Jennifer Hudson join show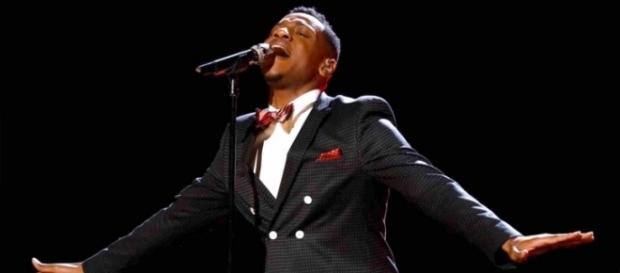 Singer Chris Blue received good news when he advanced to the semi-finals on NBC hit "The Voice." More news came about the hit show as it was announced that singer Kelly Clarkson would become a coach on the show while Jennifer Hudson will become one of the new judges. The changes in the show will take place during the next two seasons. Early voting on iTunes showed singer Brentley Brown in the lead.
Chris Blue advances to the semi-finals
The Knoxville News Sentinel reported that Chris Blue advanced to the semi-finals after Monday's show where he performed Bruno Mars' song "24K Magic." The song was a big hit, and the video later trended on YouTube with over 800,000 views.
Blue decided to try out for the hit series "The Voice" after his girlfriend, who had a bone marrow transplant, encouraged him to try out. A worship leader in his church, Blue was the second contestant to advance to the semi-finals after his performance of "24K Magic" where he not only sang the hit song but also danced with a group of women dancers dressed in dark suits and matching fedoras. His coach for the show, Blake Shelton, said that he believed Blue would make it to the Season 12 finale of the show.
Kelly Clarkson and Jennifer Hudson join 'The Voice'
Variety reported that singer Kelly Clarkson will join "The Voice" for season 14, which is set to premiere in February, as a coach. Clarkson, who won in the first season of "American Idol," will join fellow coaches, Blake Shelton and Adam Levine, and new coaches, Jennifer Hudson and Miley Cyrus, who will appear in season 13. She appeared in the 15th and final season of "American Idol" as a guest judge and in recent weeks was approached to return to the reboot of the show a judge.
The reboot of "American Idol" is expected to take place around the same time as the new season of "The Voice." Although Clarkson has been a part of "The Voice" for some time as both an adviser and a performer, this is the first time she accepted the opportunity to become a coach for the show. "American Idol" originally appeared on FOX, but the reboot will take place on ABC.
AOL reported that Jennifer Hudson will also join "The Voice" in season 13 as a judge. Hudson, both an Oscar and Grammy winner, will replace judge Alicia Keys on the show.
The change was announced after Alicia Keys said she would step away from the show to focus on her upcoming album. Hudson, like Clarkson, shot to fame on "American Idol." She later went on to work as a judge on the UK version of the show "The Voice." She will join coaches Miley Cyrus, Blake Shelton, and Adam Levine for the season, and Clarkson will be added in season 14. Get the latest spoilers for who is singing what on "The Voice."