Gal Gadot says she didn't know about being auditioned for 'Wonder Woman'
At least two big movies of Gal Gadot are expected to release this summer.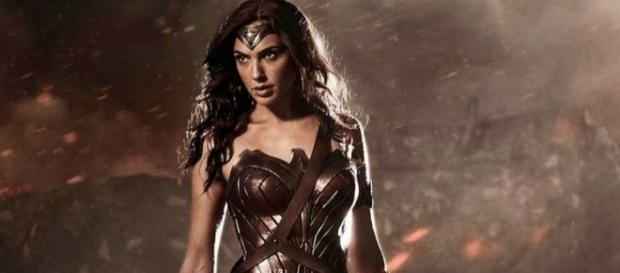 According to Vanity Fair, Hollywood actress Gal Gadot claims that she'd no idea that she was being auditioned for "Wonder Woman." She says that she was just doing camera test for "Batman v Superman: Dawn of Justice" when the director Patty Jenkins chose her for the lead role in the upcoming movie. After the success of "Man of Steel" in 2013, Patty Jenkins started the auditions of "Batman vs. Superman" and "Wonder Woman." It took him no time to finalize the cast of "Batman Vs Superman," but the filmmaker was saddled with the monumental task of finding the perfect lady to play the lead role opposite Ben Affleck.
He finally chose Gal Gadot, the former beauty pageant from Israel who made the headlines with her incredible performance in "Keeping Up with the Joneses."
Gadot in 'Wonder Woman.'
"Wonder Woman" is one of the most anticipated Hollywood films. This superhero movie is based on the DC Comics character of the same name. Upon its release this May, Warner Bros. will distribute the movie in the US and Canada. Director Jenkins claims that it is the final installment in the DC Extended Universe with screenplay and dialogues by Allan Heinberg.
The cast includes Gal Gadot, Jason Fuchs, Zack Snyder, Chris Pine, and others. In this movie, Gal plays the wife of an American pilot who dies after a crash on the island of Themyscira. Being a widow, it's tough for her to survive in the male-dominating society. But she manages to get a good job and starts living a normal life with her children. Meanwhile, she observes that the country's peace is at risk. So, the lady decides to fight against terrorists in collaboration with several cops.
Her camera test
Gadot's appears as Diana Prince, a daughter of Hippolyta and the wife of the former pilot.
She describes her role as having various strengths, but at the end of the day she's is bound to fulfill the responsibilities of her little ones. Gal says that Diana Prince is a simple yet super-confident lady. She is trained to fight against terrorists but quits on everything as she's worried about the future of her children. After winning several awards for "Dawn of Justice," Gal Gadot was on board to play the lead role. Previously, Nicole Kidman was in talks for the same character, but she withdrew herself due to short of time.
Post-production of the movie is finished, and it is scheduled to be released on June 2.
Gadot says that the director asked her to do a camera test which was not less than torture. He looked at every aspect, including her body language, her expressions and the style of delivering dialogues. The former Israeli model looks excited as "Wonder Woman" is her first superhero movie. She says that she was pregnant with her second child during the shooting, so it was not easy to continue working. However, she has managed to give her best performance and looks forward to fans' response.