Details of Joy-Anna Duggar's big engagement are revealed
It sounds like Austin did a great job and Joy-Anna loved her big engagement day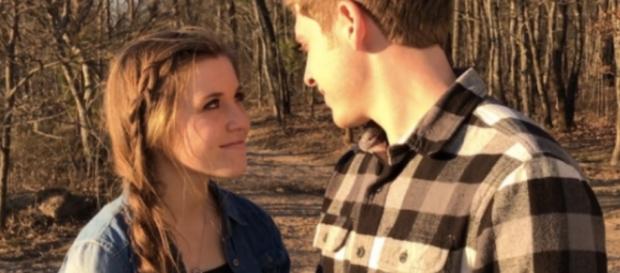 Joy-Anna Duggar just got engaged to Austin Forsyth. They just announced their engagement earlier this month and now the details are starting to come out. This hasn't been seen on "Counting On" yet, but should air when the show returns this summer to TLC. You know that the TLC cameras were rolling for something this important, but probably just let Joy-Anna think that they were along for their fun date.
Details about Austin's romantic dinner revealed
When Joy-Anna Duggar and Austin Forsyth got engaged, they had two of the girls along with them as chaperones. They went horseback riding and took Jennifer and Johannah along with them.
Now Duggar Family Blog is sharing a few pictures and some details about the special night. After their engagement, Austin had a really nice dinner ready for her outside. grilled venison from a deer they hunted together, grilled potatoes, and cast-iron skillet green beans
Joy-Anna and Austin had grilled venison from a deer they hunted together, grilled potatoes and cast-iron skillet green beans. It was a little bit colder and they had on coats, but really seemed to enjoy their time outside right after their engagement. Joy-Anna and Austin were courting less than a year before he decided to propose to her.
So far, the viewers haven't got to see very much of Austin, but he has been a friend of the family for a really long time. It looks like the next season will focus a lot on Joy-Anna and Austin's courtship and engagement, so everyone will get to see more of him on the show.
It will also be about Jinger's new married life, Jessa Seewald's new baby and of course, Jill Dillard's second pregnancy. They have not shared an exact date of when the show will return, just that it will be this summer.
Are you excited to see Joy-Anna Duggar and Austin Forsyth's engagement on "Counting On"? Do you think that these two will end up married before the end of the year? Sound off in the comments section below on your thoughts, and don't miss new episodes of "Counting On" when they air on TLC this summer. #joy anna duggar #Cast Iron Skillet