'Honey Boo Boo' Mama June dumped by date after weight loss, plastic surgery
Mama June Shannon dumps cheater 'Sugar Bear' Mike Thompson, gets dumped on 'From Not to Hot.' Honey Boo Boo pooh-poohs weight loss surgery.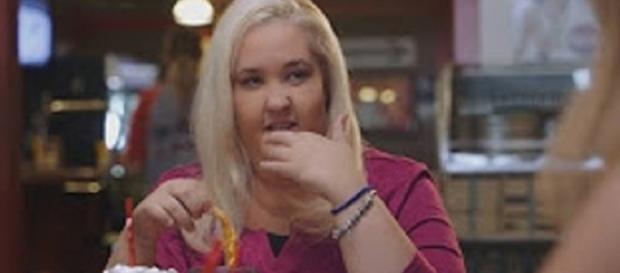 Mama June Shannon risked dating again after dumping her cheating ex Sugar Bear Mike Thompson. The reality TV celebrity boasted a total makeover on her new WEtv show "From Not to Not." But even after weight loss and plastic surgery, poor Mama June still got dumped on a first date. Daughter Alana Thompson wasn't onboard with her mother's surgery, but the show promises a jaw-dropping transformation that even Honey Boo Boo can't pooh-pooh.
Mama June loses obesity, husband, and boyfriend
June Shannon can't win for losing. After shedding 150 pounds and maybe more after weight loss surgery, the 37-year-old found the courage to ditch her cheating bisexual common-law husband Sugar Bear.
It wasn't the LGBT admissions from Mike Thompson but his multiple hookups, gay and straight, that got him the boot. "Teen Mom' OG" Catelynn Lowell is defending similar cheating allegations with husband Tyler Baltierra. Shannon's daughter Lauren a.k.a. "Pumkin" urged Mama June to start dating again, saying even Honey Boo Boo has a boyfriend. "From Not to Hot" shows that a few dates were hot, but at least one was not.
Mama June: 'WTF, who leaves first date?'
As two-timer Sugar Bear enjoys love with his new wife, June goes on an awkward blind date. The man is shown walking out of the cafe, leaving Shannon asking "What the F--k?" As "From Not to Hot" TV cameras follow him to the parking lot, the guy waves them off without an explanation. But the trailer suggests this happened before the big makeover.
June Shannon said she lost 150 pounds already, though many say she looks no thinner. Mama June does a lot of auto fat-shaming, which troubles some. She seems to equate plastic surgery with body love, but the one who is body confident despite obesity is Honey Boo Boo.
Mama June's weight loss surgery wows
Over the course of the season, Mama June promises to drop down to a size 4 from 354 pounds (that's like 10-12 sizes). She claims to do it the old-fashioned way, but "From Not to Hot" shows it's not all diet and exercise. Shannon underwent chin reduction and breast implant procedures. A few months ago, June appeared on "Botched" and asked for a tummy tuck. She is shown undergoing what she calls weight loss surgery. But viewers aren't sure if that means the traditional gastric bypass surgery. If it's not bariatric surgery then weight loss must be from a tummy tuck, skin removal, liposuction, fat-freezing, coolsculpting, or other form of plastic surgery. #HoneyBooBoo #MamaJune #Weightloss