Mama June now size 4 from 352 pounds after weight loss, plastic surgery?
WEtv 'From Not to Hot' teases shocking transformation for 'Honey Boo Boo' Mama June Shannon after obesity, but reality television fans are confused.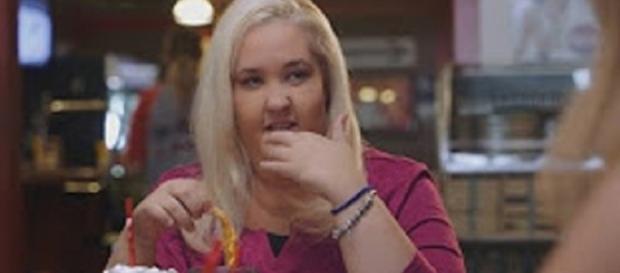 Mama June Shannon is one of the most-recognized faces on reality television. But not for long, says the ex-star of "Here Comes Honey Boo Boo." The mom of four promises a shocking transformation after weight loss, exercise and plastic surgery on a new reality TV show. WEtv "From Not to Hot" teases that Mama June is now a size 4 after weighing in at 352 pounds. But in all these big promises fans are still a little confused.
Mama June gets weight loss surgery?
That's what June Shannon calls it, anyway. "From Not to Hot" shows Shannon undergoing some kind of anti-obesity "weight loss surgery," another name for bariatric surgery.
Did the mom of pageant star "Honey Boo Boo" Thompson undergo gastric bypass? That would account for transformative weight loss. But recent appearances on the show haven't shown her as thin as gastric bypass patients show on "My 600-lb Life". This makeover seems to be an instant which begs some kind of plastic surgery.
Mama June gets plastic surgery makeover?
June Shannon had a breast implant procedure and requested a tummy tuck on "Botched." However the "Toddlers & Tiaras" star was turned down because her C-section wasn't precisely botched. June thought a complimentary tummy tuck came after Caeseran--it doesn't, a shocked Dr. Dubrow told her. Physicians on that show, "The Doctors," wanted her to lose more weight before surgery. She has boasted a weight loss of 100-150 pounds (numbers varied) and had chin removal surgery.
Has she lost enough for a tummy tuck? "From Not to Hot" shows her eating healthier and working out but also giving up and letting obese Honey Boo Boo get more overweight. So is June's new size 4 down to liposuction, skin removal surgery or fat freezing or did she get gastric bypass surgery?
Mama June's confusing makeover claims
Mama June may be losing weight but Honey Boo Boo is finding it. If the Georgia mom has turned over a healthier leaf why hasn't she helped her child out of obesity? Then there's Shannon's new size 4 that "From Not to Hot" suggests. If she weighed 352 pounds and lost 150 pounds by her appearance on "Botched" that's 202 and more like a size 18. Did the reality TV star shed 8 sizes in just a few months? After all the weight loss and plastic surgery, many say she looks no different. Watch Feb. 24 to find out if this promised makeover will in fact shock or let folks down. #HoneyBooBoo #MamaJune #Weightloss