Donald Trump responds to 'Hillary lover' Meryl Streep after epic Golden Globes takedown
Donald Trump has finally issued a response to Meryl Streep after the actress gave her thoughts about the president-elect during the Golden Globes.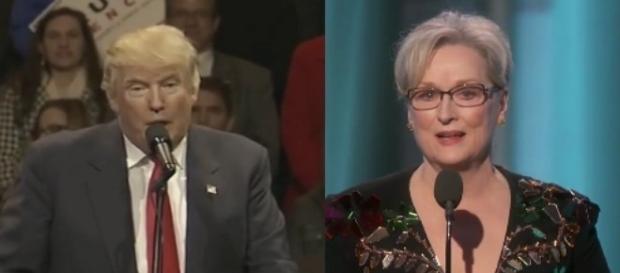 The 74th #Golden Globes turned into the #Meryl Streep show on Sunday night after the award-winning actress dismantled #Donald Trump in a instant classic speech. As expected, it didn't take long before the president-elect offered some thoughts of his own.
Trump on Streep
As she accepted the Cecil B. Demille Award at the Golden Globes, Meryl Streep started what would become a near six-minute speech, railing against Donald Trump. Streep, unlike the president-elect, never raised her voice or even mentioned Trump by name, but made sure to get her words across like only an award-winning actress could do. The audience of her peers watched in silence, hanging on to every word that Streep uttered, which ended in an applause from those in attendance.
Across social media, Streep was praised for her comments, while Trump supporters and American conservatives lashed out after being triggered by the anti-Trump theme. As reported by The New York Times on January 9, Trump is speaking out.
Donald Trump dismissed Meryl Streep's Golden Globes speech, calling her a "Hillary lover" in a brief interview https://t.co/I5q8KC9Lja

— The New York Times (@nytimes) January 9, 2017
During an interview with The New York Times on Monday morning, the former host of "The Apprentice" said he was "not surprised" by the speech given by Meryl Streep, describing her as a "Hillary lover," due to her support of Hillary Clinton during the election.
At tonight's #GoldenGlobes we honor Hollywood legend Meryl Streep with the prestigious Cecil B. Demille Award. pic.twitter.com/dxpeCDNXY6

— Golden Globe Awards (@goldenglobes) January 9, 2017
Donald Trump admitted that he didn't watch the Golden Globes, nor see Streep's speech, but downplayed it as part of the alleged bias coming from "liberal movie people." However, one comment from Meryl Streep did appear to bother the president-elect.
During her speech, Streep referenced a Trump rally back in 2015 when it appeared that the former host of "The Apprentice" was mocking disabled reporter Serge F. Kovaleski with a hand gesture to his chest.
Trump gets defensive
"I was never mocking anyone," Donald Trump told The New York Times, insisting that he was simply "calling into question" Kovaleski for getting a previous story about him wrong. "People keep saying I intended to mock the reporter's disability, as if Meryl Streep and others could read my mind," Trump said, before stating, "I did no such thing." The president-elect continued to push aside Streep's comments, before promising to have a successful Inauguration Day despite backlash from Hollywood.