Watch the video of the news article
Don't miss our Facebook page!
Like Blasting News page on Facebook: we will keep you updated with all the latest news.
People from the town of Paradise fled in their vehicles or even on foot to escape from the wildfire that was destroying everything in its path. California Fire Captain, Scott McLean, estimates that innumerable structures have felt the fury of the fire and offices, large stores and restaurants have been "flattened by the fire." There were predictions of strong winds and they came and played havoc with the lives of the people.
Sky News reports that residents saw their houses go up in flames as they tried to flee the scene with whatever they could carry.
It was an unthinkable situation and a pathetic one to see the wildfire swallow one's house. Authorities were concentrating on evacuating the residents as the wildfire consumed more than 26 miles of territory. When strong winds combine with dry conditions, it spells trouble for the wildfire season in northern California.
Hundreds of buildings have been destroyed in a fast-moving Northern California wildfire, officials say https://t.co/3d1dIcO9oP

— TIME (@TIME) November 9, 2018
It was a panic situation
Firefighters have to tackle the wildfire and prevent it from spreading.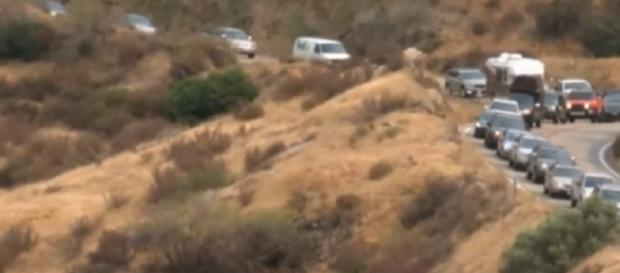 Butte County Sheriff Kory Honea has assured they will send as many of them as possible to help. His most important message is for the people to evacuate. Videos posted on social media have revealed the seriousness of the situation. Sky News adds that many residents are using social media platforms to keep track of missing persons, especially elderly relatives.
California has, in the recent past, has been facing wildfires. There are a number of factors responsible for such a scenario, and one of these is the dry conditions due to insufficient rainfall. When the strong winds and dry surroundings combine, they give rise to wildfires that destroy the environment and send people scurrying for cover.
The town of Paradise will be in ruins
According to NBC News, the wildfire in the Sierra foothills in Northern California fueled by strong winds has devastated the town of Paradise in the Sierra Nevada foothills. It seems the fire originated near Camp Creek Road in Butte County, north of Sacramento. Capt. Scott McLean of the California Department of Forestry and Fire Protection, or Cal Fire, has informed a section of the media that – "pretty much the community of Paradise is destroyed — it's that kind of devastation."
Many of the localities were without power and the California Highway Patrol diverted traffic to ensure the safe passage of vehicles to the highest extent possible.
Cal Fire has cautioned that the fire had more than doubled in size and has yet to be contained. Many structures in Paradise are lost and there are reports of injuries to people.
Click to read more
and watch the video