Dogs may help owners sleep better [study]
Having a dog in your bedroom may you get a better night's sleep says American Veteran Association.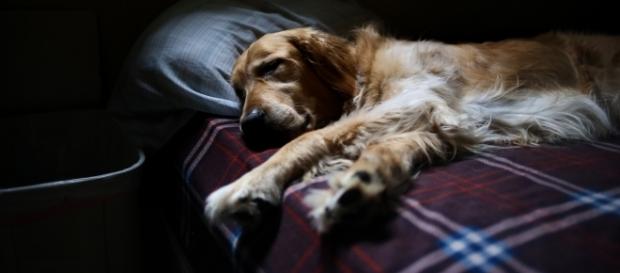 The American Veterinary Association said that there are currently 40 million households in America that own #Dogs. The problem is that these families are divided on whether or not a dog should be allowed in the bedroom. A recent study was released by the Mayo Clinic in the Mayo Clinic Proceedings about having pets in the bedroom at night. It was titled "The Effect of Dogs on Human #sleep in the Home Sleep Environment."
Dog owners who are hesitant to have their dogs in their bedrooms may want to reconsider as this may help them get a better night's sleep. While having a dog in the bedroom may be fine, pet owners may want to consider that some of the cute things dogs do may be a sign of problems.
The Mayo Clinic Study
The International Business Times said that 63 percent of pet owners consider their dogs to be part of the family. Pet owners are still divided on whether or not to allow dogs in the bedroom. Although some pet owners allow their dogs to enter their bedrooms freely, some may not feel comfortable in allowing their dogs in for fear of not getting a good night's sleep.
In a study released in the September issue of Mayo Clinic Proceedings, the study suggested that pet owners might actually sleep better when they had their dogs in their bedrooms. The study used 40 pet owners who had not experienced any sleep disorders in the last five months. Using accelerometers on both the pet owners and dogs they were studied for seven nights. Researchers discovered that the pet owners actually experienced a sense of security and comfort from having their dogs in their rooms.
The Deccan Herald reported that the sleep benefit comes from having the pets in the bedroom. It is not a good idea to have the dogs underneath the covers with you when sleeping. The benefit was only seen from having pets in the bedroom. Since most pet owners are away from their pets most of the day, they make up for that time after they get home. Having pets in the bedroom is an easy way to do that.
Scientists stunned by the discovery
Building a Better World News reported that pet owners often think that having a pet in the room will disrupt sleep. This is when the researchers were stunned to discover that having a pet in the room actually improved sleep because it provided a sense of comfort and security while pets in bed actually lowered the quality of sleep.
The researchers concluded that it was fine to have pets in the bedroom just not in bed. Potential pet owners need to consider that in spite of this good news, having a pet is a huge responsibility and that abandoning their pets means they could be destroyed if a new home isn't found.
#Sleep Study