Disney reveals details about 'Galaxy's Edge,' the upcoming Star Wars theme lands
Disney has unveiled details about the new Star Wars themed, 'Galaxy's Edge' much to the delight of the fans of the series.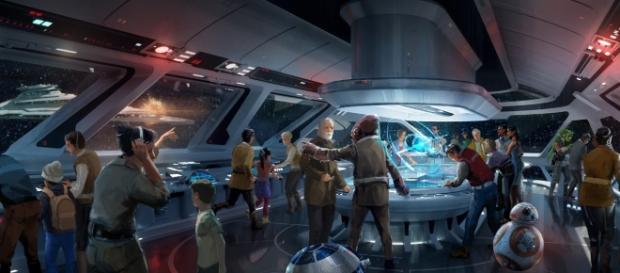 Disney has announced the name of the #Star Wars Theme lands that are scheduled to come up at Disneyland and #Walt Disney World and it would be called Galaxy's Edge.
Fans who have been waiting to find out the latest update about the upcoming Star Wars lands at Disneyland and Walt Disney World, here is some great news. According to the revelations made at the D23 Expo, the two lands will be named Galaxy's Edge and the visitors can expect loads of adventure at the fantasy place as a lot of rides and surprises are waiting at the lands.
Model of Star Wars themed Galaxy's Edge unveiled by Disney at D23 Expo
Disney has made an exciting announcement about its Star Wars themed lands scheduled to come up at Disneyland and Walt Disney World.
The model of the lands was unveiled at the ongoing D23 Expo where it was announced that the lands would be called Galaxy's Edge. Also, fans would get to experience some amazing adventure in the form of extra rides, spectacles, and a Star Wars hotel to stay in and interact with characters from the series.
Notably, the Star Wars Lands has been under construction for months at Disney. However, the Chairman of Walt Disney parks and resorts, Bob Chapek revealed at the D23 Expo that the Galaxy's Edge will open for visitors in 2019.
It must be mentioned that at the earlier 2016 expo event, it was revealed that the rides at Galaxy's Edge would include getting to operate the Millenium Falcon in a dogfight. Moreover, fans and visitors can also indulge in a fighting battle from the hangar bay of Star Destroyer.
Fans can experience real life Star Wars at Galaxy's Edge
According to the official Disney Parks blog, the lands hold a lot of charm as they will bring fans very close to feeling Star Wars characters and stories in real life. They will get to experience the real-time adventure through the rides that include the exciting battle between the First Order and the Resistance. Also, Disney will build another new world revolving around Marvel universe in Anaheim and it is rumored that Spider-Man and the Avengers will be a regular at this fantasy place.
Remarkably, Disney has been pumping in a huge amount of investment in theme parks after making good money from these projects and the upcoming lands are part of the same initiative. And, with the announcements about the upcoming theme park at Disneyland and Walt Disney World, a gala time surely awaits the fans of Star Wars. #Galaxy Edge