Hip-hop, deep teaching, and humility draw all ages to Pastor Howard -John Wesley
Respect for hip-hop culture and traditions of faith keeps preaching relevant at Alfred Street Baptist Church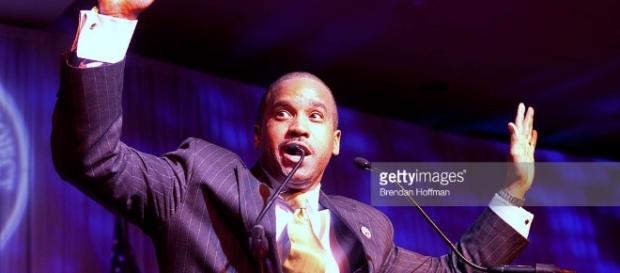 Rev. Dr. Howard -John Wesley knows far better than most that for many of the 70 percent of Americans that consider themselves Christians, this upcoming Easter Sunday may be the only day this year that a church draws them into the seats. #Alfred Street Baptist Church of Virginia doesn't face any issues of falling attendance, thanks to the dynamic and deep preaching by this pastor. Since coming in 2008, Rev. Wesley has watched his congregation grow from 2500 to over 7000. He holds four services per Sunday, and his flock embodies all ages, ethnicities, and needs. His "respect" for hip-hop, his honor to his fourth generation preaching legacy, and his example of servant humility keep folks coming through the doors.
No generation gap
Rev. Howard- John Wesley realizes that his role is to minister to all under his watch and that many yearn for the traditional in song and sermon, and he makes no apologies that those church traditions are still there, wrapped in language that resonates with today's culture. Madison Welborn, a 15-year-old, remains engaged and active in the church succinctly because "you never feel bored and at home," a sensation that some churchgoers are all too willing to assume. "His sermons make you want to listen, engage, know more, and do more," the young Madison explained on "CBS This Morning." "I respect hip-hop. I come from that language," asserts 44-year-old Wesley, who realizes that the power of language is a huge conveyor to changing lives. In 2012, amidst the numbing shock and horror of the Trayvon Martin case, the pastor donned his hoodie from Howard University, reminding that "if you're hurt and you're scared, it's hard to hear God." Last year, #Howard John Wesley enrobed his words about Joseph in the context of Beyoncé's "Lemonade" album.
"Joseph had a doctorate in "Lemonade," he opened from the pulpit, dressed in purple, speaking of pain.
A humble apology and welcoming arms
Pastor Wesley was selected from a field of 108 candidates, and he initially turned down the call. He was soon under a certain conviction that he had made a mistake. He came before the church in utter submission and humility, admitting his failure to heed a higher purpose. He was further humbled that in place of rejection, welcoming arms greeted the return, and he hasn't looked back. "We knew how good his preaching was, but we didn't realize how good his teaching was" reflects Patricia Watson, who served on the selection committee. "We felt the depth of his knowledge sermon after sermon."
This pastor wants the message and the spirit of the Word, in any context, even by his favorite poet, Shawn Carter, usually known as Jay-Z Alfred Street Baptist Church has become a chosen place of worship for the Obama family, and Wesley will delight in welcoming them this Easter, "but I want to welcome that homeless man even more, the one who just needs the arms of a church family to wrap around him." Whether a First Family or a first-timer through the door this Easter Sunday, Howard John Wesley has words of hope and rhythm for every heart
#Hip Hop