'Overwatch': strange bug crippling Mystery Heroes
A new bug was on Mystery Heroes are reportedly encountered by several players in 'Overwatch'.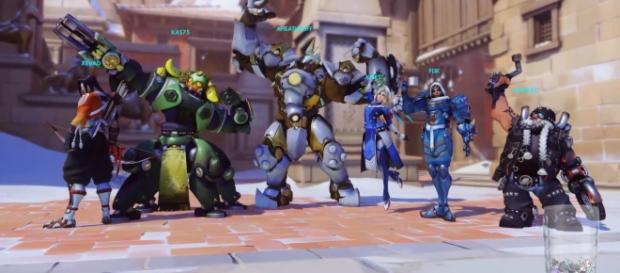 Several "#Overwatch" players recently reported experiencing a strange bug in the skirmishes in Mystery Heroes. Since the game was officially launched in 2016, Blizzard's popular first-person shooter title has its fair share of bugs and glitches. Some bugs are discovered in the heroes while others are experienced in several modes of the game. The game developer is always proactive in addressing these bugs. There are times when the cause of the issue is immediately disabled. Most often, Blizzard would roll out a hotfix or a patch to resolve the issues.
Strange bug
On Reddit [VIDEO], a user named professorxchavier shared a gif of a bug he has experienced in the Volskaya Industries map of "Overwatch." The strange bug appears to be messing with the spawning and respawning of players.
It also leads the players to respawn outside the playing bounds of the map, which triggers them to fall and die.
As the thread grows, it later turns out that the Redditor is not alone in this experience. Several players have commented and shared their experiences with the strange bug too. Another player named Viper3D shared that he experienced the same bug in the skirmish in Mystery Heroes. The player noticed that the bug wants the player to spawn in the skirmish in four ways. This includes getting stuck inside the spawn, spawning right outside the spawn with the door closed, the right way of spawning with the spawn room door open, and spawn outside the map.
Maps
The players in the Reddit thread also shared the maps in the game where they experienced the #Mystery Heroes bug. This includes Hanamura, Numbani, Gibraltar, and Volkskaya Industries to name a few.
So far, Blizzard has not commented on the issue. Players are looking forward that a fix will soon be rolled out to address the issue.
Halloween Terror Event
Meanwhile, a new set of information recently surfaced online about the upcoming Halloween Terror 2017. Leaked images of what appears to be a promo material contain details on when the event will start. From the leaked images, it seems that the Halloween Terror 2017 will start on October 9. However, several fans doubt the authenticity of the leak because the image shows the game heroes wearing 2016 Halloween Terror skins.
However, some fans believe that this is only Blizzard's way of preserving the excitement of the upcoming event. According to several claims, it is obvious that the game developer perfectly knows that the promo materials for the event will be leaked. In order to give all "Overwatch" players an equal chance to see the skins at the same day, Blizzard used the old skins. #Halloween Event 2017