'Injustice 2' Hellboy and Raiden's portraits leaked ahead of schedule
New portraits of Fighter Pack 2's DLC characters that will soon be released in 'Injustice 2' are leaked online.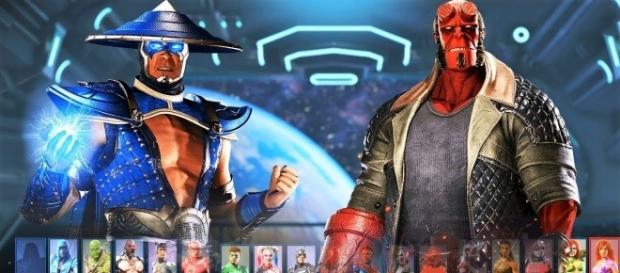 New portraits of "Injustice 2" DLC characters Hellboy and Raiden were leaked earlier than their scheduled releases. Both characters were previously unveiled during the Fight To Death Showdown at Gamescom 2017 in Cologne, Germany. NetherRealm has only released the gameplay trailer of Black Manta. The DC villain will be the first character from Fighter Pack 2 to be released in the game in September 2017.
Latest leak
Earlier than their tentative releases in October and November as speculated by fans, new portraits of Hellboy and Raiden surfaced online.
Raiden and Hellboy's image were found in the storage of Injustice's official web page.
If you check the website now, you will discover that the page where the portrait was first found will now give you an error message. A user named DoctorPurpleMan shared these leaked portraits on Reddit.
Hellboy
The World Destroyer's portrait appears to be a more accurate illustration of its Comics version. It appears not too ragged and still has a close resemblance to actor Ron Perlman's build. The portrait depicts the character with blazing eyes, tapered horns, and solid arms. He is garbed in his traditional coat and an ash gray shirt.
Hellboy?
credits: DoctorPurpleMan pic.twitter.com/goStZIYcAB

— techcentrik (@techcentrik) September 2, 2017
Raiden
While Hellboy's portrait looks stunningly accurate with its Comics version, "Mortal Kombat's" Raiden is a different story. He is depicted in the leaked portrait very different from his usual look. He sports a different outfit, which reveals more of his chest. The character in the leaked portrait has the same blazing eyes, extra charged fists, and the traditional Vietnamese-looking hat.
Raiden?
credits: DoctorPurpleMan pic.twitter.com/mqeKvtmYbQ

— techcentrik (@techcentrik) September 2, 2017
Black Manta Gameplay
A few days ago, NetherRealm Studio released the first gameplay trailer for Black Manta. The video shows the character's unbelievably high-tech abilities and impressive moves. Black Manta was shown fighting against different characters of "Injustice 2." Among this includes Aquaman and Swamp Thing, which the character easily annihilated with a different combination of moves and abilities.
You can check out Black Manta's latest gameplay trailer below.
This month, Black Manta, the first DLC character of the Fighter Pack 2 will be released. NetherRealm Studio has not yet provided the exact release date of the character. Hellboy and Raiden might be released in the game in October and November 2017. This is if we base on the release pattern of NetherRealm Studio in releasing playable characters in "Injustice 2."