FFXV lends the luxurious Regalia to 'Forza Horizon 3'
Prince Noctis' ride, the Regalia, is taking on 'Forza Horizon 3's terrain, downloadable for free.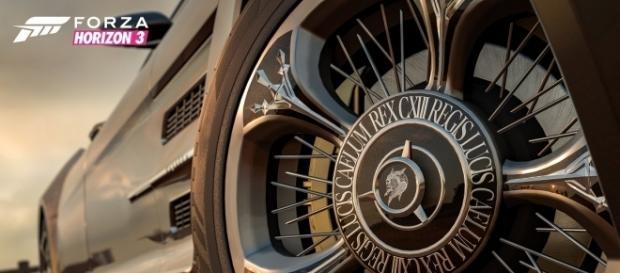 The Regalia, the outlandish car our "Final Fantasy XV" boys road trip in, will soon be available for drivers in "Forza Horizon 3," Microsoft announced at the China Joy International Digital Entertainment Expo in Shanghai. It will be available as a downloadable content on Aug. 1 for Windows 10 and the Xbox One, so if you've played either game, expect a message from Microsoft with a redeemable code on the 1st.
The cast of "Final Fantasy 15" use the Regalia across all of Lucis for their numerous adventures, and players of "Forza Horizon 3" get to do the same on their road trips across Australia. One of the best things about this luxurious car is that it can fly, although Polygon says "Forza" players might miss this feature. However, you can still drive it convertible-style, just like in FFXV.
What you need to know about the Regalia
The Regalia is a black, four-seat convertible with an interior made of dark leather. The license plate lights up at night and reads "Insomnia RHS-113 - The Royal Capital", a direct reference to the capital of Lucis and Regis Lucis Caelum.
Prince Noctis' fancy ride was inspired by cars like the Cadillac Ciel concept and the Maybach Exelero, is 6.4 meters long, 2.2 meters wide, and weighs more than 5600 pounds. Powering that massive, elongated bulk is a 7.2 liter supercharged V12 generating 536 horsepower and 590 ft-lbs of torque.
Director Hajime Tabata describes the Regalia as a member of Noctis's party. It symbolizes the open world of "Final Fantasy XV" and the idea of "freedom." Moreover, symbolizes King Regis, as the car belongs to him. Overall, the car is a metaphor for the bond Noctis shares with his father, as well as how Regis will preserve his son's journey.
'Forza Horizon 3's' history of borrowing cars and more
This isn't the first time "Forza Horizon 3" has had DLC from other game franchises. Previously, the "Halo" Warthog, "Fallout" inspired vehicles, and even "Hot Wheels" have all been featured to the game as a downloadable add-on.
"Horizon 3" could have marked the first time you'd be able to take the Regalia off-road. However, an FFXV update earlier this year finally afforded players the freedom to drive the car without rails, rather than being restricted to roads only. The RPG will also soon support multiplayer. With its massive heft, intricate body details, and luxurious interior, the Regalia is a unique addition to the world of "Forza Horizon 3."
Click to read more
and watch the video
or