First Lady Melania Trump's most expensive fashionable outfits list [photos]
The First lady loves to wear expensive designer dresses, shoes and fashion accessories.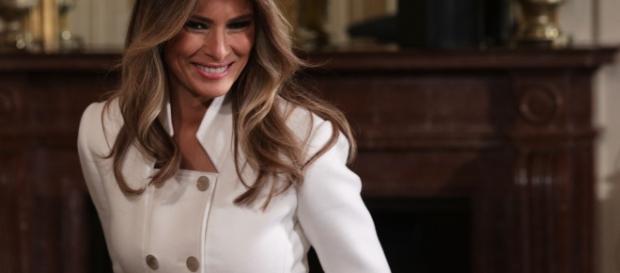 #Melania Trump has constantly been in the limelight for her choice of wardrobe and fashion accessories since she stepped into her role as the #First Lady. It is true that being a celebrity is not that easy as everyone thinks. Critics, fans, and media all want to know each and every detail about celebrities including where they go, what they do, what they eat and even what they wear. The same is the case with First lady Melania Trump.
She often accompanies her husband, President Donald Trump, for social functions, meetings, and gatherings. Normally the First lady loves to adorn designer wear and sophisticated outfits. The media often criticize her for her fashion choices.
But this doesn't stop her from dressing in a style that suits her.
List of most expensive outfits
Back in May, Ms. Trump wore a luxury jacket worth $51,500 and a dress worth $25,750 to attend a lunch meeting with spouses of the G7 leaders in Sicily. The colorful jacket was designed by popular Italian fashion brand Dolce & Gabbana. She also carried a matching floral applique clutch which cost $1,630.
Melania Trump wore a jacket worth more than the average American woman makes in a year https://t.co/cQFA6v4wEy pic.twitter.com/bcvH2wxFFG

— NYLON (@NylonMag) June 7, 2017
In February this year, the First lady [VIDEO] attended President Donald Trump's first joint address to Congress wearing a blazer and a skirt worth $12,000. The beautiful black dress was from Kors' Spring 2017 collection.
Melania Trump wears Michael Kors for Donald Trump's first address to joint session of Congress https://t.co/IlftUSUumn

— The Cut (@TheCut) March 1, 2017
Melania Trump wore a silver dress with a high-neckline to attend the concert of the La Scala Philharmonic Orchestra at the ancient Greek Theatre of Taormina in Sicily in the month of May.
Her custom-made silver dress reportedly cost around $40,000, Hollywood Life reported. She completed her look with a pair of Dolce & Gabbana shoe worth $945.
Melania Trump Dazzles In Sparking Silver Dolce & Gabbana Dress At Concert — Pics https://t.co/fJeqEGjA2c pic.twitter.com/DA30nE9ZeM

— Fan Portal (@ThePortalFans) May 27, 2017
Donald Trump and his wife hosted a dinner this month at the White House to pay tribute to the victims of Hurricanes Irma and Harvey. The First lady wore a Monique Lhuillier designed floor-length gown worth $8,000.
Melania Trump Wears Stunning Silver Dress For The White House Dinner pic.twitter.com/bxP5FzLyq6

— My Info (@beatlesjad) September 15, 2017
Recently, President Donald Trump posted a message along with a picture on Twitter to mark the occasion of Labor Day. In the picture, the President can be seen holding the hands of his wife who is wearing an Italian-made dress. The white striped frock was reportedly designed by Greek designer Mary Katrantzou. The dress was spotted listing on the Saks Fifth Avenue website with a price tag of $2,255.
President Trump Chose a Strange Picture of Melania Trump to Celebrate Labor Day: https://t.co/EJdNIpzMTy

— ELLE Magazine (US) (@ELLEmagazine) September 10, 2017
The 'Ivanka Look'
In related news, some women are so fascinated with the first daughter, Ivanka Trump's, looks that they are ready to spend thousands of dollars to look like her. A New York-based plastic surgeon, Dr. Norman Rowe, told Page Six that he has received a couple of calls from clients who want to get the Ivanka look, which he described as large eyes, a slender nose, and widened cheekbones. #Donald Trump Wife