Watch 85-year-old disabled woman dragged by UK police in anti-fracking protest
An elderly, disabled Green Party member was protesting against fracking in Little Plumpton, Lancashire, when officers dragged her across the street.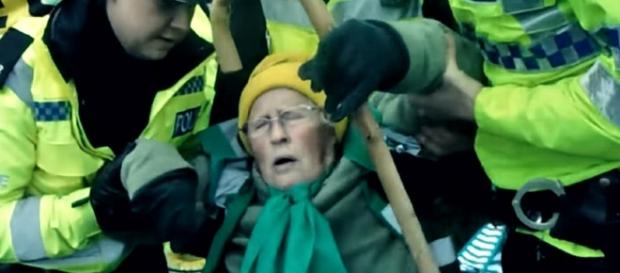 Anne Power is 85 years of age and is disabled. While the anti-fracking campaigner and Green Party member was protesting against a fracking site close to Little Plumpton in Lancashire, England, she was dragged by police officers over a busy road. Power was left bruised, traumatized and unable to sleep after the violent incident.
Three police officers drag elderly woman across the road
A video, included below, shows 85-year-old Power, as three police officers grab her, dragging her across the street, with her heels scraping on the ground at a peaceful anti-fracking protest. As reported by LBC, a man can be heard speaking, saying it was "unbelievable." The man speaks directly to the police officers, asking if they came out of their homes that morning just to drag an 85-year-old woman across the road.
The man later asked the police, was there no way they could have had one officer lifting her legs up as they moved her. The senior officer's response was not exactly reassuring, as he said they will do that "next time." Readers can watch footage of the incident at the anti-fracking protest below.
Bruised and traumatized following anti-fracking protest
Since the incident, Power has told the Independent that she had bruises on her shoulders and has had trouble sleeping ever since. The anti-fracking campaigner said she was angry, as she was afraid the officers would break bones in the incident, adding she has already had two hip replacement operations and can only walk with the aid of a walking stick.
Disabled 85-year-old woman dragged across busy road by police at fracking protesthttps://t.co/8QfqowPvNu pic.twitter.com/D60ZY0HDV5

— Michael Fernández (@michaelferna1) October 13, 2017
The retired teacher said she was "fuming," worried about what injuries the officers might cause, so she relaxed totally and just let it happen.
She said if you resist and fight, something might break. While she was angry at the time of the incident, she said the next day the whole thing "overwhelmed" her. She expressed "terrible sadness" that their battle against fracking has not yet been won. Power also said the police officers had failed to protect the protesters [VIDEO] against oncoming trucks as they broke up the protest., as one man had reportedly been hit by a vehicle while the police were breaking up the protest.
Power was sitting at the side of the road in a folding chair among other protesters when it happened. Suddenly she was suddenly surrounded by approximately 12 police officers, three of which lifted her from her seat. The two female and one male officer then dragged her for some 32 feet across the busy street. There were reportedly three officers following behind the group who did nothing to prevent Power's feet from dragging across the tarmac.
'Utter viciousness' on the part of police
Describing her treatment by the police as "utter viciousness," she said she had seen other protesters treated similarly.
At other protests she has seen the officers kneeling on young women, saying she could hear them screaming.
The previous day Power had been awarded a "Green Hero" ward by the Green Party for her efforts in protesting against fracking.
'No complaints' received said police
A police spokesman made a statement to say no complaints had been received over the brutal incident and that no officers have been disciplined. However, they did say they will review their tactics to ensure they adhere to "best practices." The spokesman advised anyone who wished to complain about the incident at the anti-fracking protest to visit their website.
Backlash on Twitter over police brutality
Many members of the Green Party and other anti-fracking protesters took to Twitter to air their shock at the violent incident.
similar to issue of police brutality in the USA. Police must do their jobs to keep us safe, but was a disabled woman that much of a threat?

— Alicia N (@ANakhav_) October 12, 2017
Awful to see Anne being dragged 'like a rag doll' over the road by police. But they will move her more carefully 'next time' !! Words fail.

— Rachel (@GertieGreen2) October 10, 2017
Put people in a uniform, give them some authority, cut them some slack and you can quite easily create a monster.

— Craig Hall (@w41gy) October 10, 2017
Click to read more
and watch the video
or