Munich police identify knife attack suspect who injured eight people
A knife attack in Munich, Germany that saw 8 people wounded on Saturday is not considered to be a terrorist incident.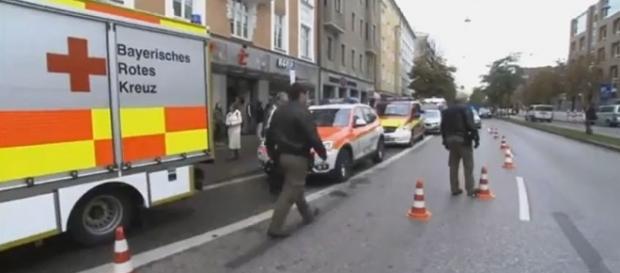 A German man stabbed and injured eight people in a knife rampage in six different locations in #Munich in Germany on Saturday morning, lead to police launching a city-wide manhunt. A 33-year-old man was arrested by a SWAT team. Police do not consider the attack to be terror-related, saying they believe the suspect suffered from mental health issues.
Manhunt launched for knife-wielding suspect in Munich
According to German police, the suspect allegedly stabbed eight people in his #knife attack, but none of the victims suffered life-threatening injuries and only received superficial wounds. Of the eight injured, police said their ages ranged from a 12-year-old boy to a person 77 years of age.
While a three-hour manhunt was in progress with helicopters and ground-based officers, locals were advised to stay indoors as the attacks were random and the suspect was considered highly volatile and dangerous. Residents in Rosenheimer Platz, Ostpark and close to Ostbahnof railway station were particularly warned to stay inside, while they had all available police officers searching for the suspect.
Update #Rosenheimerplatz: derzeit 5 leicht verletzte Personen. pic.twitter.com/eNwFPUUt8q

— Feuerwehr München (@BFMuenchen) October 21, 2017
Terrorism ruled out in knife attack in Munich
Police chief Hubertus Andrae made a statement to say terrorism and religion were both ruled out as a motive for the knife attacks. The suspect was known to police for other offenses and was believed to have mental health issues.
Preliminary reports show the assailant had reportedly acted alone and had randomly targeted his victims in six different areas of the city.
As reported by RT News, while the manhunt was ongoing, police had described the man as being thickset with short blond hair and around 40 years of age. The suspect was unshaven and was wearing gray pants, a green jacket and a backpack, to which a sleeping pad had been attached. He was seen to be riding a black bicycle.
Officials eventually detained the suspect in Ottobrunner Strasse, around 2.1 miles from Rosenheimer Platz where one of the knife attacks took place in the city. The suspect is to be sent to a psychiatric clinic for further evaluation, according to the police chief.
Memories of previous attack in Munich
As reported by Deutsche Welle, Saturday's knife attacks revived memories of a similar attack in Munich in 2016, where an 18-year-old man attacked and killed nine people, all youths of Albanian and Turkish backgrounds. That shooter had identified himself as being a German and an Aryan and turned his gun on himself, committing suicide soon after the shooting incident. #Germany