Four injured after car crashes through the wall of a York, UK home
Four people were injured on Sunday morning after a car left the road, smashing through the wall of a home and into the living room, causing a fire.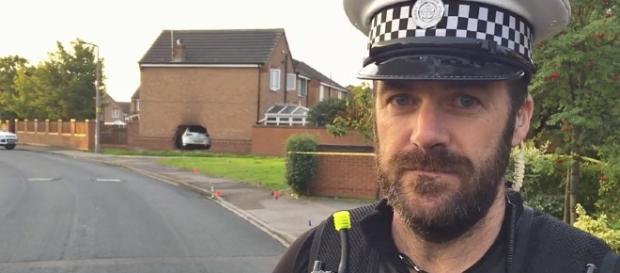 York police in the U.K. are saying it is a miracle no one died after a 20-year-old male crashed a car through the wall of a home in a residential area of York and ended up in the #Living Room. Four people were injured and the car and house set alight in the incident, but fortunately, no one was killed. The accident happened at 1:25 a.m. on Sunday, when a VW Golf car, with three people on board, left the road, smashing into the wall of a home and landing in the living room. A resident of the house who was sitting on the sofa at the time received serious injuries, while the car burst into flames, setting the house alight.
Firefighters tackle blaze after car crashes into home
According to the North Yorkshire Fire and Rescue Service, the driver and two passengers in the vehicle managed to leave the car before it caught fire and were hospitalized with minor head injuries.
However, the homeowner who was seated on the sofa when it happened was taken to the hospital, after suffering severe injuries to his lower limbs. The injuries are not, however, considered to be life-threatening. The homeowner's wife and child were also in the house at the time but were uninjured in the incident.
As reported by the BBC, firefighters then tackled the fires and both the house and car were badly damaged by the blaze. The driver of the car, who was not identified but was in his 20s, was arrested after the incident.
This is unreal!!! Imagine sitting on your sofa and this happens 😱😱😱Four injured as car smashes into house in York https://t.co/j6AgBdTCrd

— Tarquinius Superbus (@soobadooba_boi) September 3, 2017
Police amazed that no one was killed in the incident
Minster FM quoted Sgt.
Paul Cording of the York Police as saying it was astounding no one lost their lives in the incident. He credited the emergency services, family members and local residents who helped to get people away from the scene of the accident and resulting fire. Crash investigators were reportedly still at the scene at 7 a.m. Sunday, trying to establish what caused the car to leave the road and crash into the house. Police have appealed to any witnesses to the incident, who may have seen the car prior to the collision, to come forward with any relevant information.
Indiana saw a similar incident with two girls killed
A similar story was recently reported in Clinton County, Indiana, where a 17-year-old girl, under the influence of drugs, sped down a road at 107 miles per hour before crashing through the wall of a family's home. That story didn't have a happy ending as it led to the death of two young girls in the living room of the home, while their mother was injured. They had been relaxing and watching television at the time of the crash. #Car Crashes #York Uk