Gunfight yesterday in Mexico: latest in turf war between feuding drug cartels
La Línea and Sinaloa killed 14. Grenade launcher and grenades seized after bloody shootout.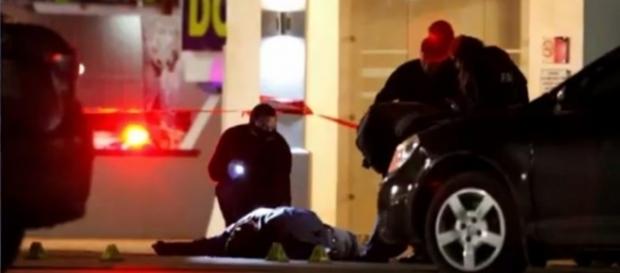 A two-hour, pre-dawn shootout involving two rivaling drug gangs and police in Las Varas, Chihuahua (Mexico), killed 14 adult males and injured several additional people yesterday. According to Eduardo Esparza, of the prosecutor's office in Chihuahua, the gunfight between drug trafficking gangs escalated after police arrived.
It is believed the firefight was between the armed faction of the Juarez cartel, La Línea, and its rival Sinaloa cartel's hitmen battling over territory. The remote area, principally farming and livestock borders the U.S. and is strategically ideal for Mexican drug cartels for trafficking narcotics into the United States.
Las Varas, which has mountainous terrain, is also known for producing opium poppies and marijuana.
Gunfight between warring cartels over prized territory
According to Óscar Alberto Aparicio, state police chief, the warring cartels opened fire on police officers once they arrived at the scene. He said described the gunfight as "intense," and told the Mexican radio network Formula that authorities cannot rule that there are possibly more people who were killed as a result of the confrontation. Felix Gonzales, a spokesman for the Chihuahua prosecutor's office, also stated that the death toll may rise.
More than 60 gunmen were involved in the shootout. Esparza said there were 20 rifles that were found at the scene of the gun battle. One patrol unit was also struck by gunfire according to Aparicio.
Police, along with soldiers chased gunmen into the mountains, he said. Law enforcement summoned a Black Hawk helicopter to assist in searching the area for opium poppies and marijuana grows.
Officials seized three vehicles, a grenade launcher, and grenades, according to Esparza. Three suspected gunmen were also taken into custody. Among the arrested was former state police officer José Luis González Montes, currently known by his moniker "El 32." Montes, presumed leader of La Línea was later released, said the state safety commissioner in Chihuahua.
Deadliest clash of cartels since extradition of 'El Chapo' to the United States
Yesterday's gunfight was the most recent deadly clash between rivaling #Drug Cartels and factions warring with the Sinaloa cartel – in chaos since Mexico extradited its kingpin, Joaquin "#El Chapo" Guzmán to the U.S. at the beginning of the year.
Violence in Mexico, on the whole, has increased throughout this year, reaching record levels. In May, alone, 2,185 homicide investigations were opened, which is the highest number in a single given month since the 1990s, which is when the Mexican government started publishing its homicide statistics, according to the Los Angeles Times.
The escalation in violence may be attributed to the battle is splinters of drug cartels hungry for the territory, according to analysts cited by the Los Angeles Times. In the absence of Guzmán, created a void in leadership for the Sinaloa cartel. With the vacuum exposed, there is fighting between the former kingpin's sons and one of Guzmán's top lieutenant's sons. Simultaneous to their struggles for control, another criminal group emerged and strives to enjoin the turf wars: Jalisco New Generation cartel. #trafficking narcotics