Barcelona train crash sees 54 people injured, one seriously
Passengers believed it was a terrorist attack or earthquake when a commuter train crashed at the Barcelona Francia station early Friday morning.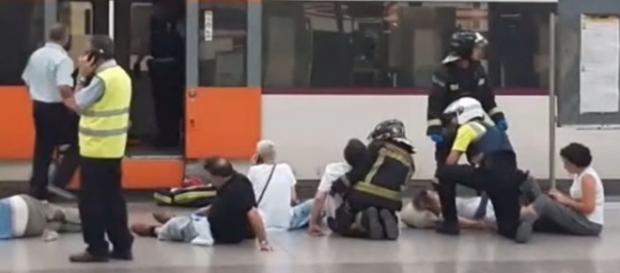 At least 54 passengers were injured, one seriously, at 7:15 a.m. on Friday morning when a #commuter train, traveling from Sant Vicenç de Calders to the Francia station in #Barcelona, Spain, failed to brake and hit a buffer stop. Injured passengers from the #train crash were taken to various medical centers and hospitals in the city or treated at the scene.
54 passengers and engineer injured in train crash
Of the 54 passengers affected by the train crash, one passenger is in a serious condition with a lung injury after receiving a strong impact to the chest. However, the injury is not believed to be life-threatening. 19 others, including the train's engineer, received lesser injuries, while 20 other passengers received minor injuries.
Accidente de tren hoy en Barcelona: cerca de 40 heridos | Directo https://t.co/NEA5CqLGdP vía @Elperiodico. En la Estación de Francia

— pachuca (@mtere45) July 28, 2017
According to the Catalan Commissioner for Territorial Affairs, Josep Rull, the commuter train was braking at the time of the accident, meaning its traveling speed was limited, otherwise it could have been much worse. However, he said the train derailed as a result of the collision. Rull said he had not yet had a chance to speak to the train's engineer, who is reportedly still in shock.
The Spanish language news service, El Mundo, reports that six ambulances were sent to the train station as well as nine patrols of the Mossos d'esquadra police force. There were also 11 vehicles belonging to the Barcelona fire department and several Urban Guard units.
Train passengers panicked as they thought it was a terrorist attack
As reported by the Spanish news service La Vanguardia, passengers thought a bomb had exploded or an earthquake had occurred at the moment of the train crash. One passenger, Lidia García, told them things became very tense in the moments after the crash as some passengers thought it had been caused by a terrorist attack. She said they didn't know whether it was a bomb and many passengers were screaming.
El Pais quotes García as telling them it was like experiencing an earthquake, but she said they got lucky, as she was sitting in the first car and was sleeping when the crash occurred.
Mi tren ha chocado al llegar a estación de Francia hoy pic.twitter.com/WYGJMbcw7j

— Felix Rios (@iamfelixrios) July 28, 2017
Authorities have reported that the Ferrocat alert – the rail transport Emergency Plan – has been activated and Ferrocat has recommended that Barcelona residents avoid going to the Francia station. According to the railway operator, RENFE, while Francia station is closed, the balance of the rail service is not affected by the crash. A RENFE spokesperson said their priority is to treat the injured, after which an investigation will be run to clarify the cause of the accident. Reportedly police have already begun an investigation at the Francia train station.