Sirens go off as residents in Pyongyang evacuate; North Korea prepares for war
Rate this title
As North Korea celebrates the Day of the Sun, a missile was launched in the coastal city of Sinpo.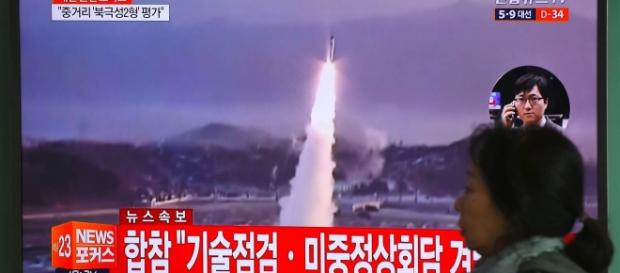 A video uploaded on YouTube recently showed an alarm sounding off. Reportedly, the video was taken in North Korea where that sound can be heard along the streets of Pyongyang telling residents to leave their homes. A Russian newspaper, Pravda, claimed that the North Koreans were ordered to evacuate 600,000 residents or 25 percent of its entire population as fears are building over a potential nuclear strike.
The report goes on claiming that due to the evacuation, several families were torn. North Korean leader Kim Jong-Un is said to be gearing up for an all-out war against the United States after several months of the troops building up alongside nuclear weapons testing.
China
Meanwhile, China issued a warning of a potential conflict rising at any given time over the revolutionary and socialist territory of Korea. There were previous reports citing a possible launching of the country's sixth nuclear test and numerous missiles in disobedience to the UN sanctions as well as warnings from the United States. Wang Yi, China's foreign minister, pointed to the importance of preventing the situation from happening before the damage is done.
Xinhua published a report today stating that Chinese State Councilor Yang Jiechi and US Secretary of State Rex Tillerson talked over the phone about the pressing situation involving North Korea on Sunday. It was speculated that the conversation happened after an unidentified missile was fired early Sunday morning from Sinpo, North Korea's Coastal City.
.@JeremyKohCNA @yunsukCNA Here are some notes @JeremyKohCNA left us this morning, before heading off to that flower show: pic.twitter.com/cJoagvfy7Q

— Christine M. Chan (@ChristineMCNA) April 16, 2017
According to some reports, South Korea's Joint Chiefs of Staff confirmed that the missile allegedly exploded at launch. The two officials moreover discussed the execution of the agreements talked about by the leaders of both countries during their first meeting earlier this month. The meeting took place at the Mar-a-Lago estate in Florida.
Trump
In the past days, the tension between the two countries has been building up. US President Donald Trump made several threats against the country. On his Twitter account, the president cited that the country is looking for trouble, adding that with or without China's help, the problem would be solved.
I have great confidence that China will properly deal with North Korea. If they are unable to do so, the U.S., with its allies, will! U.S.A.

— Donald J. Trump (@realDonaldTrump) April 13, 2017
North Korea is looking for trouble. If China decides to help, that would be great. If not, we will solve the problem without them! U.S.A.

— Donald J. Trump (@realDonaldTrump) April 11, 2017
The US president's latest warning came just after the country dropped the Mother of all Bombs on ISIS territory.
The US leader was quoted as saying that Kim Jung-Un's country is a problem that needs to be taken care of.
WATCH: A North Korean official tells @JeremyKohCNA #Pyongyang is capable of launching a first strike against the US https://t.co/qTUQUs4zCA pic.twitter.com/1k6UlxiYqS

— Channel NewsAsia (@ChannelNewsAsia) April 15, 2017
Meanwhile, officials from the revolutionary and socialist Korean state have issued warnings that a potential nuclear war could start anytime. Recently, the Western pacific was loitered by US Navy strike group as America's way of showing force. Several analysts suggest that the Korean leader might be devising a concealed submarine underwater nuclear attack.
Click to read more
and watch the video
or