Kamchatka Peninsula reveals a really wonderful creation of nature: the volcanic lake Karymsky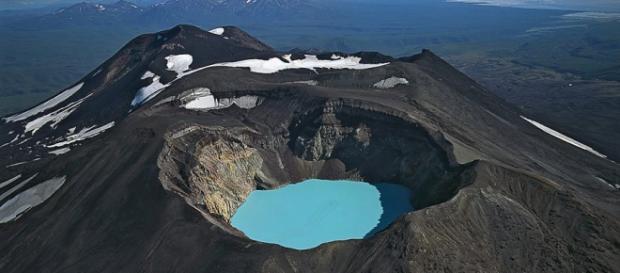 From Russia, specifically in Kamchatka peninsula, there are UN acid lake, a veritable death trap for those who would bathe in it's "clear" water. Lake Karymsky  is a crater-lake formed near the volcano with the same name, located in Kamchatka, Russia. With a radius of 5 km, Lake one was at the time the one of the largest freshwater lakes in the world, but after a volcanic eruption, toxic gases have turned water in lake in one of the largest lakes acidic water lakes.                
Thousands of trees and animals have disappeared after the terrible volcanic eruption destroying the lake ecosystem. Unsurprisingly, neither question for a romantic boat ride.
On Kamchatka volcanoes are plentiful. By 1996,it covered almost the entire surface of  Depression Akademia Nauk. Located at a distance of about five kilometers north Karymsky volcano is one of the most active in the region, permanent version.       
How a clear water lake turned into acidic one? After 19 years, in early 1996, a great magnitude earthquake and a volcano began the eruption. A few hours later, the lake started his activities due to a strong underwater eruption. For 18 hours, it seemed to be covered by convulsions: every five or six minutes the water leaves the steam and an ash column. Experts say that approximately 30-40 million tone-acid incandescent material, contact with water, had formed an ultra-acid mixture sodium, sulphate, calcium and magnesium.
The researchers found that a pH of lake water dropped from 7.5 to 3.2. "If before the eruption the lake water was a clear difference after eruption it had become as acidic as hot broth," explained one of the researchers .
Moreover water chemically changed radically since high temperature has destroyed any trace of life. But recent research showed that despite the catastrophe Karymsky lake begins to regain its original appearance, but water still shows high acidity.
Click to read more
and watch the video
or