Samsung Galaxy S8, S8+ can run Windows 10 more easily than before
The service was already available when the Galaxy S8 and its docking station launched earlier this year.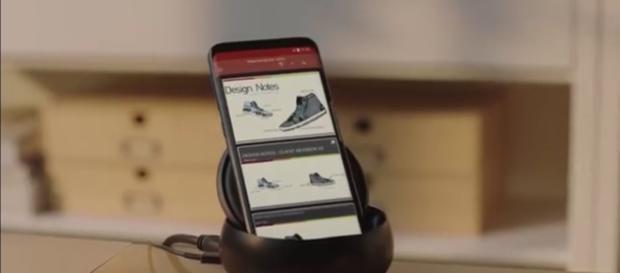 Samsung first unveiled its Galaxy S8 line-up in February this year. A few months later, the smartphones were made available for sale. At the time of the launch, the handset featured its own Docking Station – DeX that supported Windows 10 operations too. Therefore, it was already possible for one to run Windows 10 before. According to Tech Radar, Samsung has now teamed up with Ingram Micro (distributor of technology products) to give DeX users complete access to Windows Desktop on their smartphones.'
Ingram and Amazon Collaboration
Ingram Micro has also teamed up with Amazon for the same purpose. This makes running Windows 10 operations on handsets much easier than it used to be. Ingram automatically integrates Amazon WorkSpaces and Microsoft Windows Desktop on Samsung's smartphones, Galaxy S8, S8 Plus and Note 8.
After the successful setup, one can easily have a virtual desktop experience on their devices. Individuals can even connect displays via the handset's HDMI port. They can connect a mouse and keyboard and all the other accessories that represent a fully-functional PC.
The Amazon-Microsoft collaboration does come across as surprising. The two companies are arch-rivals when it comes to cloud computing services. Their digital assistants – Cortana and Alexa are also in a neck to neck competition. Despite their differences, Amazon's Web Services provides the Windows 10 solution for users, which is an interesting turn.
Samsung's DeX with Amazon WorkSpaces
Individuals can now set up Samsung's DeX with Amazon WorkSpaces and run the Windows 10 program on their smartphones.
Through this, the individuals will be able to carry out all the activities that they usually would on a desktop. This includes storing files and running certain applications. Such a feature especially comes handy to those users who travel a lot. They can simply set up their workstation wherever they feel like.
It is worth noting that this is the first that a mobile device-based Windows cloud DaaS is being offered to Samsung DeX customers directly. This product is directly targeted towards three different groups of consumers – students, entrepreneurs, and freelance contributors.
Amazon has made a 30-day free trial of its WorkSpaces available for use to Samsung smartphone users. Users from different regions of US, UK, Australia, New Zealand, Belgium, Canada, Netherlands, and France can access the free-trial and check out the experience.
If users want to avail the offer, they can do so by installing the Windows Desktop (free trial) on samsung galaxy App Store.
Click to read more
and watch the video
or