iPhone 8 batteries are swelling, Apple to look into the issue
The owner discovered that her iPhone 8 was swollen on the front portion.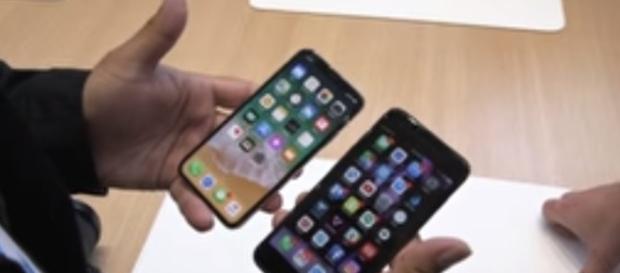 Apple launched its iPhone 8 series at an event on September 11. The devices were made available for sale on Sept 22. after using the device, owners started complaining about their devices overheating. According to a report by The Verge, there are many reports that claim that the handsets have split in two. It's unclear whether this is occurring only in a few cases or if the problem is affecting all the smartphones.
iPhone 8 battery issue
The Verge report further went on to the state that this problem is occurring because the device's battery is apparently swelling. This led to the front portion of the smartphone to bend, which ultimately separates the display from the body. This can potentially lead to explosions but such cases haven't emerged yet.
Media publications attempted at getting Apple's input on the matter. The tech giant responded by saying that they are currently investigating these cases. The first "swelling" iPhone 8 battery report emerged from Taiwan.
According to a report by 9 to 5 Mac, the owner discovered that her iPhone 8 was swollen on the front portion after putting it for a charge. Numerous users from Japan began posting pictures of similar cases on Twitter. Since then, several reports of such cases have emerged from China, Canada, and Greece, a report by MacRumors read. The Verge report notes that there are only handful of reports about this matter so far. Therefore, Apple isn't sure whether this problem is affecting only a bunch of iPhone 8 units or the entire package. They want to be able to pinpoint the problem first and then, deploy a solution for the same.
Is it a similar problem like Note 7?
Apple has already managed to make the sale of millions of iPhone 8 units. If the Samsung Note 7 fiasco were to occur with Apple, then it would severely impact Apple. Samsung's Note 7 had a similar battery issue. In those cases, the battery started overheating after being put in charge and ultimately led to explosions. Samsung was forced to recall each and every unit of its Note 7 back. In fact, they even completely eradicated the Note 7 line-up altogether. Samsung incurred a big loss in that process. They managed to cover up for the loss through the launch of Galaxy S8 and Note 8 line-up. They even started the sale of refurbished Note 7 smartphones in the market.
Their reputation was not completely tarnished but it gave the company's competitors an upper hand.
Click to read more
and watch the video
or