Apple device owners claim latest iOS 11 update worsens display and battery life performance.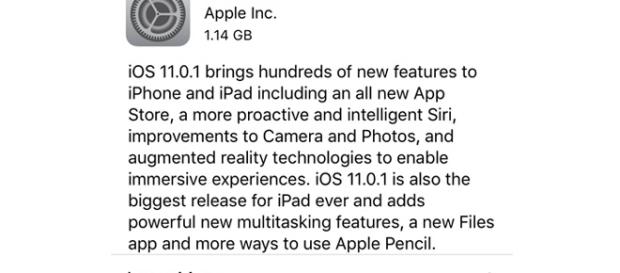 iOS 11 has expectedly come out with bugs and problems and Apple has tried to immediately address the issue. iOS 11.0.1 is already available, something that was supposed to fix issues tied up to the screen display and battery among others.
Unfortunately, iOS 11.0.1 has not made life easier for Apple Device owners. The Cupertino company's social media accounts are now plagued with complaints from users who seem to have ended up in a worse situation than before.
According to Forbes, most are not complaining about leveling performance issues tied up to the 3D Touch, the same battery life reduction problem, app crashes, lock screen freezes, as well as Bluetooth and WiFi connections getting dropped.
There was also a bug that prevented emails from being sent from Exchange servers. In all, the Apple Mobile OS has underwhelmed and a new (minor) patch is likely to be released soon.
Hold off iOS upgrades for now
With the feedback from folks who have already migrated to the latest iOS from Apple, it may be best to hold off any upgrades for now. Some iPhone or iPad owners may still be on the iOS 10.3 series, preferring to see first how iOS 11 turns out.
Apple has had its share of problems with major iOS jumps, something that they end up trying to patch. Most end up blinded by the new features such as the revamped control center, updated design elements, improved drag and drop interface and improvements to "Siri."
The eleventh major release was first announced at Apple's Worldwide Developers Conference last June 5, 2017.
After several beta releases, the full and supposed stable version rolled out on Sept. 19, 2017
For those suffering from battery drains, USA Today advises owners to double check their settings for apps that may have inadvertently been activated. While most may claim that they did not change their settings, every update includes resetting apps to their own default.
Bad timing for iOS 11 bugs
Aside from the new features, a lot of iPhone and iPad owners were hoping to get a more stable Mobile Operating System with the eleventh installment. Also, an improved performing OS would have been perfect for the Cupertino company's new fleet of devices.
Among the new handsets revealed include the iPhone 8, iPhone 8 Plus and iPhone X. The latter is the most expensive of the mix and available only in limited quantities. Set for either a March or April 2018 release, a buggy mobile operating system could force most to reconsider until Apple engineers are able to straighten things out. The same apprehension could hold true for iPhone 8 and 8 Plus buyers.
At some point, Apple is likely to release another minor patch in iOS 11.0.2. No timetable has been revealed as of this writing, meaning most would do well to settle for their current operating systems.
Click to read more
and watch the video
or