Google's new Daydream View wants to be more like furniture than a headset
The new View exhibits a design shift from portability to 'coffee table' aesthetics.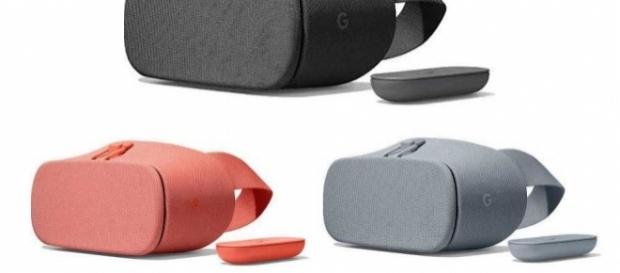 Google's brand new phone models, Pixel 2 and Pixel 2 XL, are going to be released in the following weeks. With those comes the VR equipment that is the successor to last year's Google Daydream View VR headsets.
Google is not calling it the "View 2." It's simply called a "new" View, or even the "premium" View.
New View, new colors, new material
According to a report by The Verge, the first thing to notice about the new View is the color coordination. In the previous-generation View, all the plastic parts were colored either beige or gray. This is the case for every headset, and it is constant even if the user purchased the Crimson, Slate, or Snow color variant.
In the new Daydream View VR, almost everything is color-coordinated.
The new color variants Charcoal, Fog, and Coral are themed with appropriate colors, along with the controller.
There is a noticeable change in the material of the fabric as well. Gone is the "dappled jersey" feel of the previous-generation View. The new one sports a fabric that the report described as "solid" and "more textured."
The same report stated that Google even talked with people in the field of fashion to make "something that felt like clothing." The emphasis on being fashionable is evident in the new View VR more than ever.
More for the coffee table than for the pocket
Google stepped away from marketing the new Daydream View VR as a "super high-tech" addition to the Pixel 2. Of course, it's still top-of-the-line VR equipment, but it's apparent that the company shifted the design focus on the new View to being an accessory.
It's not something that is promoted for its portability. Rather, Google's VR Product Manager Andrew Nartker professes that it's supposed to remind people of furniture.
"Nartker describes the View as a product that will 'have a nice spot on your living room coffee table,' which is apparently how most owners are using it," the report said.
That is not to say that the new Daydream View VR is made as mere eye candy. Performance tweaks were incorporated to make it a stronger, better, and faster VR headset than the last. The field of view is also increased by 10 to 15 degrees wider than the original. Granted, the increase in FOV heavily depends on the screen size of the user's phone, but there will be an increase, nonetheless.
Google's new Daydream View is available to pre-order for $99.
The headset not only works with Pixel 2, but with any phone that supports Google's Daydream platform. This includes devices like Samsung's Galaxy S8 and the Note 8.
Click to read more
and watch the video
or