Garmin launches its new wearables along with a mobile payment solution
The company introduced the Vivoactive 3 and Garmin Pay at the IFA 2017 Conference.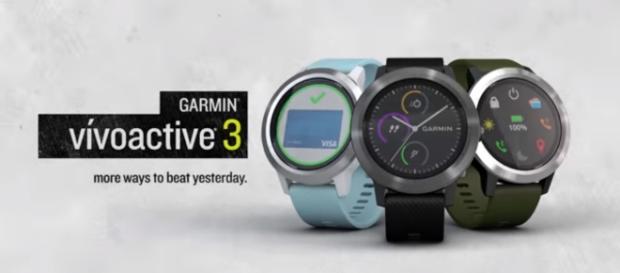 This season seems to be the season for new, high-end wearables with Fitbit recently announcing its Ionic smartwatch and Samsung unveiling three new fitness bands. Garmin is also making waves in the smartwatch industry with its latest additions to the Vivo family of wearables.
The company launched both the GPS-enabled Vivosport activity tracker and the Vivomove HR with a hybrid touchscreen at the IFA 2017. However, the most notable device would have to be the Vivoactive 3, a smartwatch featuring Garmin Pay, which is a Mobile Payment service that supports Visa and MasterCard.
What's in Vivoactive 3?
The Vivoactive 3 is a product of Garmin's expertise with additional smartwatch features that could easily make it a competitor for the more known devices.
Aesthetic wise, the Garmin wearable has a new circular case and a Chroma display. There is one right-button on the watch's circumference for powering the device. As for the left side, there is a new mechanism called 'side swipe' where users can run their finger for scrolling up and down the display. It costs $300 for the stainless steel models or $330 for the more exclusive black option.
The fitness-focused smartwatch has a GPS tracker that is perfect for running or jogging routes. It has a built in heart rate monitor for performance as well as stress monitoring. A barometer and thermometer are also incorporated in the device. And since the watch is water-resistant, one of the default activities is swimming.
The Vivoactive 3 also supports user-customizable activity apps and built-in sports apps good for 15 different activities.
Its battery life is quite impressive as well. It boasts 7 days in smartwatch mode and 13 hours with constant use of GPS tracking. The full week's use is such a major perk for anyone who dislikes charging every single night. Additional features can be found in the Garmin Connect IQ store, which can be accessed via the smartphone app.
Garmin Pay
As mentioned, the Vivoactive 3 integrated a payment system under a brand-specific name. The Garmin Pay is fairly easy to use. First, owners must create a wallet through the application Garmin Connect. This would require for one or two card authorization as well as the creation of a passcode.
The code needs to be entered before a purchase and should be done once every 24 hours or every time the watch is taken off and put back on. Garmin Pay is currently supporting Visa and MasterCard options with more banks to be added over time. True enough, this latest wearable is a combination of functionality and excellent battery life.
Click to read more
and watch the video
or