AMD Ryzen Threadripper 1900X CPU Launched at $549
The short-term boosting requirement is well taken care of by a 200MHz XFR range.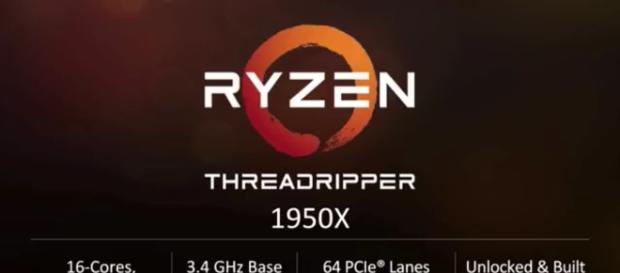 AMD has been working on an eight-core chipset since the beginning of this year. The firm has finally taken the wraps off its new Cpu line-up, Ryzen Threadripper 1900X. The processor comes equipped with 8 cores and 16 threads, and support for the company's X399 motherboard platform.
A powerful GPU
According to a report by Gamespot, the system features a 3.8GHz base clock, further complimented by a 4GHz Turbo clock. The short-term boosting requirement is well taken care of by a 200MHz XFR range. The CPU is designed in a certain manner to support the thermal and power consumption that it outputs. As pointed out by the Gamespot report, the specifications of Ryzen Threadripper 1900X are identical to Ryzen 7 1800 X, which boasts roughly 3.6GHz base clock, and is complimented by a similar 4GHz Turbo.
Its thermal and power consumption is taken care of by 100MHz XFR. On the platform level, the chipset boasts of 60 PCIe 3.0 lanes and dual-channel RAMs.
Price and specs details
The company confirmed the existence of Ryzen Threadripper in July this year. The company [VIDEO]did not make any key details regarding the product available. Two months later, it is now being introduced into the market for a starting price of $549. According to a report by Extreme Tech, this is among the cheapest CPU line-ups in the market at the moment. Therefore, it is an ideal choice for those looking to purchase budget-friendly but quality CPU.
As noted by Gadgets 360, there is a flaw in Threadripper's thermal design power (TDP) as it is not able to draw the maximum potential the chipset actually offers. Another major disadvantage is that these CPUs [VIDEO] are way larger than its competitors in the market.
They feature a different socket called TR4, which maximizes the size. These have also undergone benchmark testing, revealing key information regarding its performance.
Graphic-rich video games, such as "Grand Theft Auto V," "Rise of the Tomb Raider," "Deus Ex: Mankind Divided" and "Hitman" were operating on a system powered by Ryzen Threadripper 1900X. It was discovered that in the first three games, the processing power slowed down, but in "Rise of the Tomb Raider," the performance greatly improved. The AMD's latest CPU will especially run for a longer time, because they are designed using Core Complexes – an Infinity Fabric that connects internal clusters and safeguards them against external disturbances.