Sharp's Aquos S2 is picking up on the bezel-less handset trend
The company is among the firsts to popularize the full-screen trend three years ago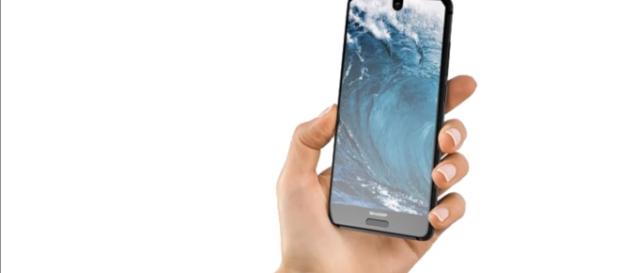 Many people consider this the year of the full-screen phone with Samsung, LG, and Xiaomi launching devices that feature massive displays and minimal bezels around their handsets. However, back in 2014, it was #Sharp that introduced the world to edge-to-edge phone displays with the Aquos Crystal. On Tuesday, the company announced in Beijing that they would be releasing another smartphone to follow the same trend, the Aquos S2.
What we need to about Aquos S2
Being the latest device in Sharp's smartphone lineup, this model pushes the concept further with a #Full Screen from the top leaving only small bezels at the bottom where the fingerprint scanner is located.
The design has quite a resemblance with PH-1, Essential's fabled phone that pushed the display all the way to the top, circling the front-facing camera. To a certain extent, it also shares some similarities with the latest iPhone 8 renders.
Just like PH-1, the S2 has a front camera notched into the screen. However, Sharp deviated a little on the design with angular, diagonally cut corners toward the top of the panel. This unique look makes the phone a bit awkward, but maybe it is Sharp's attempt to feature their free-form display technology. For this department, Sharp boasts a resolution of 2,048 x 1,080 including a screen-to-body ratio of 87.5 percent. The earpiece is located along the top edge of the phone while the traditional fingerprint sensor/home button is at the bottom. While other devices have rear-mounted sensors to maximize display, Sharp stuck to the usual for the S2.
Also, consumers have a choice between two respectable processors from Qualcomm, the Snapdragon 630 and Snapdragon 660. These mid-range chipsets may not comparable to the Snapdragon 835 that are running the other latest high-end Android devices, but it powers the S2 just right. Also, the handset is expected to have substantial longevity with its 3,020mAh battery.
A high-end smartphone
In all fairness to this new contender, it can qualify as a high-end smartphone with an affordable price. A 4GB RAM and 64GB storage are included in the Snapdragon 630-powered version while the premium has 6GB and 128 internal. The cameras are impressive with the main shooter having a f/1.75 aperture and large 1.4µm pixels that work well even in low-light settings. At the back rests a combination of 12MP and 8MP sensors for special tricks. The front camera for selfies also has 8MP with f/2.0 aperture.
At present, the S2 has limited availability in China and is now for sale. The 630 version can now be pre-ordered for an equivalent of $370. On the other hand, the premium model sells at $520. The asking prices are reasonable considering these are full-screen, high-end phones in every capacity, with the exception of the processors. Unfortunately, there is no formal announcement whether it will be available in other countries. For now, import is the only option for those who may want one. #Ph 1