Microsoft Surface Phone to take on iPhone 8, Galaxy Note 8
A new patent suggests that the device will be well-equipped to take on major smartphone giants such as Apple and Samsung.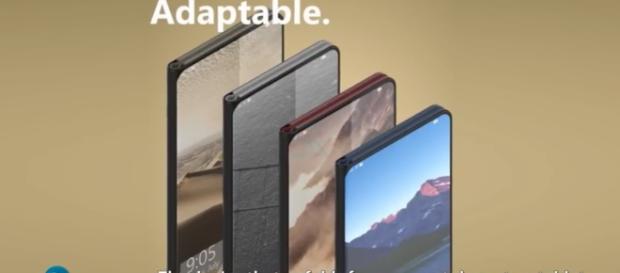 Rumors regarding the #Microsoft Surface Phone have been emerging for so long that it almost feels the device in itself is a myth. The first leak regarding the smartphone can be dated back to early 2016. It was later that year that the company CEO, Satya Nadella confirmed the Redmond technology giant's plans to be working on a new flagship device. As he described it, the 'ultimate mobile device' will be unlike any other existing in the market and the numerous patents that Microsoft is filing all seem to be hinting towards that statement. Initially, the company was speculated to introduce its smartphone on May 23rd, along with its Surface line-up of laptops.
However, that obviously did not take place, and left many fans disappointed to an endless extent.
The unique foldable design of the flaghsip
The Redmond technology giant recently experienced a decline in its Surface PC line-up as well. In 2016, the company also reported a fall in Windows phone revenues. Despite the given decrease in its performance, the company hopes to revive what is lost through the launch of its Surface Phone. The company has filed for numerous, rather-wacky and questionable patents in the span of the last six months. One patent suggested that the Surface Phone might come featuring a foldable design. In other words, the smartphone could be folded in two halves. Apart from this, the company also patented something known as the 'Wireless Communications Device,' in other words, wireless charging technology.
Since the company only recently introduced its Windows 10 software update, it is widely believed that the Surface Phone will come running on it too.
Specs and features of the Surface Phone
Like mentioned in the first paragraph, the Microsoft Surface Phone is expected to fall in direct competition with Samsung's #Galaxy Note 8 and Apple's iPhone 8 devices. As far as the iPhone 8 is concerned, the device is expected to pack a 5.8-inch display with edge-to-edge OLED screen, and the latest A11 processor along with a glass body. Meanwhile, Samsung's Galaxy Note 8 phablet is believed to be much like its sibling, Galaxy S8 and S8 Plus but with an added benefit of the S stylus pen. While the former will launch sometime in September, the latter is expected to be introduced on 23rd August at the South-Korean technology giant's 'Unpacked' event. Stay tuned for more technology news, updates, and rumors. #Samsung Galaxy Note