Galaxy Note 8 spotted again; battery capacity revealed
The Samsung Galaxy Note 8 smartphone has been spotted again, but this time it is carrying a 3,300mAh battery.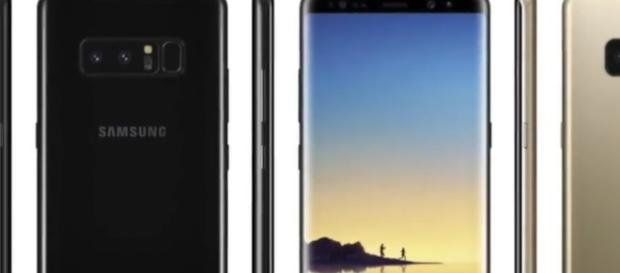 Samsung's upcoming Galaxy Note 8 smartphone has been spotted carrying a 3,300mAh Battery online. The listing has been posted on a website known to reveal specifications regarding famous smartphones just ahead of their launch, along with an image of the device's battery as well. The leak seems believable for two reasons: First, the fact has been reinforced that the upcoming Galaxy Note 8 smartphone is going to very much be like the already-revealed samsung galaxy S8 and S8 Plus devices. Since the latter carried 3,000mAh battery and 3,500mAh battery respectively – the fact that the Galaxy Note 8 will house a 3,300mAh battery seems believable. Apart from this, the leak has been posted along with the image of the battery – in which, the battery can be seen carrying the official Samsung logo.
These two reasons along with the credibility of the website, Slash Leaks have led many to believe that the latest speculation might turn out to be true.
Specs and features
Since the company hasn't attested to these speculations as of yet, the readers are advised to take the information with a grain of salt. On the other hand, if this indeed turns out to be true, then it might come across as a disappointment for many users. The phablet is expected to come packed with a slightly larger display than its sibling flagship Galaxy S8 and S8 Plus. Moreover, Samsung is also going to bundle up the smartphone with its iconic stylus S Pen. All of this and more will certainly require the device to be home to a powerful battery and it just seems like a 3,300mAh battery might not suffice.
Apart from this, the Galaxy Note 8 is also expected to pack up the Qualcomm Snapdragon 835 system-on-chip – which is the most powerful smartphone process at the moment in the market. This coupled with 6GB of RAM and 128GB of internal storage, will certainly require the company to add a good-enough battery support.
Samsung is careful about the battery
At the same time, Samsung's situation, especially with regards to batteries of the smartphones, is quite understandable. This is a direct reference to the fiasco that took place last year with the company's Galaxy Note 7 smartphone. The firm certainly doesn't want to repeat the same deed again. Therefore, the South-Korean technology giant trying to be on the safer side with regards to this is certainly justified.
Stay tuned for more news, rumors and updates on technology.
Click to read more
and watch the video
or