Samsung is working on a new tablet called Galaxy Tab A2 S
The aforementioned device is expected to be added to the Galaxy Tab A series family.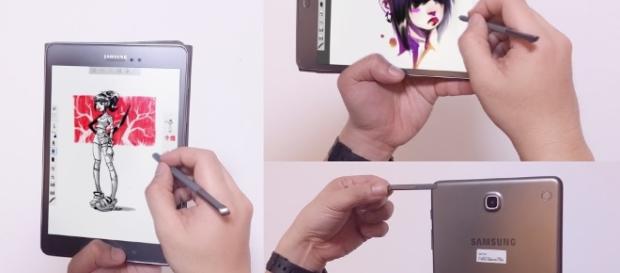 Several reports regarding Samsung's plans to renew its rugged Galaxy S8 have been around for quite some time. The new device is apparently going to be named Galaxy S8 Active and has also reportedly passed through the official FCC certification. Just two days ago, the alleged device appeared in the form of Wi-Fi certification documents as well. Now, a new report suggests that the South-Korean tech-giant has officially confirmed the existence of not one but three new (yet-to-be-announced) devices. The confirmation appeared on the official change-log in the latest version of Samsung Video Library application.
Device is code named Cruiser
According to a report published by Sam Mobile, one of the devices that appeared on the official change-log of Samsung's Video Library app is codenamed Cruiser.
Previously, the alleged Cruiser device has been linked to Samsung Galaxy S8 Active for AT&T as well. This has opened up possibilities for speculations for the fans. While the first two devices are believed to be a smartphone, the other one is heavily rumored to be the new line-up of tablets offered by Samsung.
The company is expected to launch its #Galaxy Tab A2 S and Galaxy J7 Reloaded sometime towards the end of this year. The latter carries the model number SM-J701F. It goes without saying that Samsung hasn't provided any official confirmation regarding any of the devices namely, Galaxy S8 Active, Galaxy J7 Reloaded and Galaxy Tab A2 S. However, since they have appeared on Samsung's official Video Library Application, the authenticity of the same has been attested. Moreover, it also appears like the market is slowly approaching the debut date for the same.
The devices will most probably launch in the US markets at first, followed by a global roll-out thereafter.
Tablet will mark top-notch specs
On the basis of previous leaks, Samsung Galaxy S8 Active is apparently going to come packed with either 5.4-inch screen display or 5.8-inch Super AMOLED display. The smartphone will apparently be powered by Qualcomm's latest Snapdragon 835 SoC. The device is expected to offer 4GB of RAM and 64GB of internal storage. The Galaxy S8 Active will most probably pack the same camera set-up as the Galaxy S8 model, i.e. 12MP main camera with #Optical Image Stabilization (OIS), Phase Detection #Auto Focus (PDAF) and 4K video recording capabilities along with an 8MP front shooter with Auto Focus, Optical Image Stabilization (OIS), Phase Detection Auto Focus (PDAF) and Auto HDR as well. That being said, there is no additional detail regarding Samsung's upcoming tablet available as yet. The aforementioned device is expected to be added to the Galaxy Tab A series of the family.