Samsung might have taken care of a huge Infinity Display related problem associated with the Galaxy S8 series by tweaking the Note 8 design.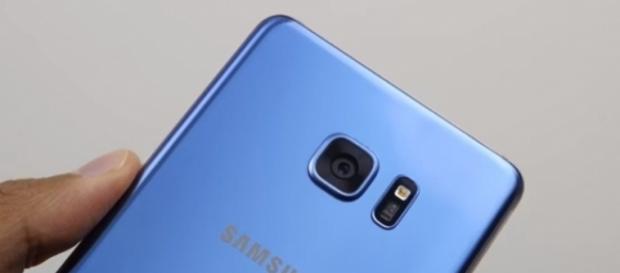 It's no secret that the Galaxy Note 7 fiasco caused great concern for Samsung. Nearly about a year after the controversy plagued mobile phone was discontinued, the undeterred South Korean handset maker is on the verge of introducing its successor dubbed, the Galaxy Note 8.
With multiple reports hinting at a looming arrival of the next Galaxy Note-branded smartphone, the burning question on everyone's mind is whether or not the Note 8 will be able to amend the company's run-down reputation and lure back Galaxy Note fans when it hits the store shelves. Meanwhile, the internet is brimming with all sorts of reports surrounding the upcoming smartphone.
Forbes' contributor Ewan Spence points to this week's Android Circuit which centers on the Galaxy Note 8's release date, a brand new screen for Samsung's phablet and lots more.
Samsung addresses a big concern
The tech firm seems to have taken care of a flaw associated with the curved 'Infinity Displays' found on the Galaxy S8 and its larger variant the Galaxy S8 Plus in the form of an adjustment to the Galaxy Note 8 design. According to Forbes' Gordon Kelly, the leak gives us a brief glimpse of a new screen, which is paired with even smaller bezels for Samsung's upcoming phablet.
The renowned tipster, Ice universe recently issued an update for the Note 8 by tweeting new renders, which he deems as "Galaxy Note8 v2.0." He claims the company is bent on making the bezels even narrower. If proved to be true, this alters the Infinity Display design found in both the Galaxy S8 and Galaxy S8 Plus making their gently curved corners edgier and sharper.
When is the new phablet arriving?
We are just about a month away from the official unveiling of the Galaxy Note 8, and Samsung has already confirmed the exact timing of that launch by inviting the world's press to an event slated to take place at 11 am on August 23rd in New York City.
Samsung Mobile's Head, Koh Dong-jin a.k.a. DJ Koh told a room brimming with journalists in Taiwan that the Galaxy Note 8 will arrive in late August and hit the store shelves in a couple of waves, starting in September. The "end of August" aligns perfectly with the idea of Samsung event scheduled to take place on August 23 in New York.
Although that is later than 2016's Note 7 launch, it gives the company a considerable window of time before Apple launches its new iPhone, allegedly bearing the iPhone 8 moniker, early September.
Do you think Samsung's next Galaxy Note flagship smartphone can outperform Apple's new iPhone?
Click to read more
and watch the video
or