Samsung Galaxy Note 7 refurbished release date and other details
Rate this title
Samsung will be launching the refurbished version of its Galaxy Note 7 smartphone later this month.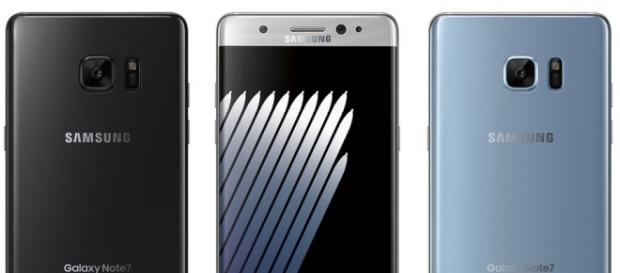 On Sunday, July 2, Samsung Electronics announced its plan to sell refurbished models of its Galaxy Note 7 smartphone starting this week in South Korea in the wake of an upsetting recall over fiery batteries that traumatized the popular handset maker last year.
What's new?
As expected, the recall of thousands of Note 7 smartphones ended up burning a big hole in the tech giant's pocket. As if that weren't enough, it tore down the global reputation Samsung took years to build.
The refurbished version of the Galaxy Note 7 has been outfitted with previous components of the ill-fated handset. Samsung simply replaced the blazing battery with a safe one and reintroduced it with a new label.
The company has officially launched the spruced-up Galaxy Note 7 on July 2, calling it the Galaxy Note Fan Edition. It's no secret that the battery of the controversy-plagued Note 7 led to its quietus.
Bearing that in mind, the company clarified that the Note Fan Edition doesn't pack the same battery. On the contrary, it is backed by a new 3,200mAh battery that is certified by Samsung's new 8-point battery safety test.
Release date, and other details
According to Samsung, the Galaxy Note FE (Fan Edition) is expected to arrive in South Korea on Friday, July 7. The company also confirmed it would only roll out 400,000 units in its home country.
There's still no word regarding the availability of the revamped Note 7 in other countries. The refurbished edition will sell for 699,000 won (about $611) in South Korea, which is considerably lower than the original Note 7 model which was priced at nearly $1,000.
Several campaign groups such as Greenpeace noted that dispose of the handsets could prove to be harmful to the environment. Samsung addressed the concern by minimizing the waste of resources, and thus making this an environment-friendly project, the firm said in a statement.
In the bid to amend its run down reputation, Samsung released new flagship devices, the Galaxy S8 and its larger variant the Galaxy S8 Plus, which has been very well received.
The recall of the now defunct Galaxy Note 7 turned out to be the largest ever by Samsung, and it was quite embarrassing for the company. However, in April Samsung announced its biggest quarterly net profit since 2014, despite being under duress on wider aspects.
The company's vice-chairman Lee Jae-Yong is in litigation for bribery over his involvement in a big corruption scandal that cast aspersions on previous president, Park Geun-Hye.
Lee is held for questioning over his role in greasing palms of the former president and her acquaintance, looking for regulatory favors.
Click to read more
and watch the video
or