Microsoft Surface Studio quietly making waves behind the Apple iMac
Apple iMac could be in for some stiff competition with the flexible Microsoft all-in-one.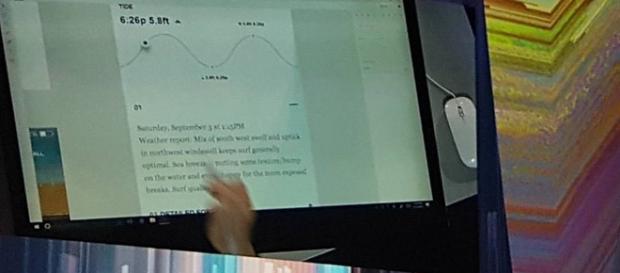 While most are eager and hoping to see a Microsoft Surface Pro 5, the Redmond company does have a lot of other stuff tied up to that line. The first thing that comes to mind is the Surface Pro 4 though there is that Microsoft Surface Studio variant which came out in late 2016.
The Surface Studio is seen as a new jab by the company to challenge Apple's iMac. With the Cupertino company offering that device for graphics, photo, and video editing professionals, Microsoft is hoping that the same can be said for its lush all-in-one solution. Backing that up are advanced featured that include the use of a Stylus and touch screen technology.
Made to bring out the creativity in you
With the flexibility that the Microsoft Surface Studio brings, it would be hard for professionals to ignore. It looms as a comfortable solution for folks looking for a more convenient solution, something pegged to bring out the creativity from within.
It comes blessed with a massive 28-inch touchscreen display with 4,500x3,000 (192 dpi) resolution. If not for work, the Surface Studio can quickly shift to a media rendering device to appease consumer demand for large displays that can render crisp images and high-resolution videos.
Backing all that up are packed specs that include the option to choose between a quad core i5 or i7 chipset, a discrete nVidia GPU, RAM and the necessary storage (HDD/ SDD). It even comes with a new input device called the Surface Dial (an optional add-on costing about $1000, one tasked to assist users when it comes to graphic and design creations.
Aside from that, there are plenty of ports to use. Similar to most devices, Microsoft's solution does not fall short of addressing the demands that most look for in the modern tech world.
You get what you pay
With a device packed with plenty of possibilities, it hardly comes as a surprise that it will cost a lot. Pricing starts at $2,999 for the model that boasts of a 2.6 GHz quad core i5-6440HQ chipset, 2 GB NVIDIA GeForce GTX 965M GPU, 8 GB of RAM and a 1 TB hybrid drive. Like most, the price gets higher depending on the preferred specs of a buyer.
The Surface Studio may be a new player for the creative professionals though it may have a chance at giving Apple a run for its money. It may boil down to the operating system of choice knowing the macOS and Windows operating systems do carry differences.
For Microsoft, it is about adding the new interface options (touch screen and the Surface Dial) to lure buyers on their end. As far as pricing is concerned, the Surface line of Microsoft has built quite an impression – something that will hopefully carry on to the flexible Microsoft Surface Studio AIO.
Click to read more
and watch the video
or