LG's new airport robots guide travelers at Seoul airport
The new technology introduced by the company is hoping to make things easier, even for foreigners.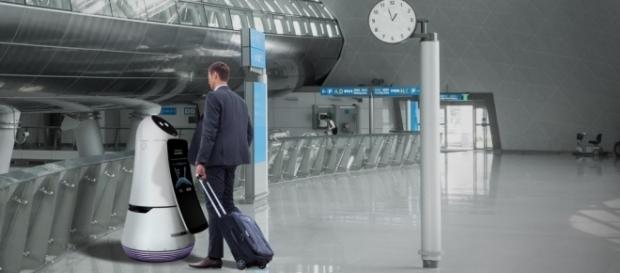 To prepare for the Winter Olympics in South Korea for next year, electronics giant LG made new robots that will help the country's largest Airport. The Incheon International Airport is now testing two of LG's latest prototype robots. These robots are the Airport Cleaning Robot and the Airport Guide Robot.
These robots were unveiled at the CES early this year, and both of them are doing exactly what their names suggest.
Making people's lives easier
The Airport Cleaning Robot resembles a mini-tank. As its name suggests, it will assist in maintaining the cleanliness of the airport. According to its manufacturer, it can quickly detect the areas that need the most frequent cleaning. It can store these locations in its database and calculate what the easiest routine to get the job done is.
Meanwhile, the Guide Robot roams around the terminal and provides travelers with boarding information and directions. This robot can speak four languages - Korean, English, Japanese, and Chinese - and can answer different questions that most visitors commonly ask. Passengers can also have the Guide Robot scan their boarding pass, and they will be escorted to their respective departure gates.
LG's vision
LG entered into a deal with the Incheon International Airport last July 2016. Since then, the tech giant has conducted different tests in building a better robot that can survive any unexpected situations. Currently, LG already deployed five Guide Robots and five Cleaning Robots for testing purposes.
During a press release, LG stated that the products like this could help the company show their ambition to develop and expand its robot business as a future growth engine. This also serves as the company's opportunity to showcase their specialty to almost 57 million people who come to the airport annually.
Focus on robotics
LG has starting making efforts in expanding its robotics business since the start of the year. Just now, the company is conducting researches for household and commercial purposes. The company introduced their very first robot vacuum in 2003, and since then, LG has made significant efforts in developing South Korea's technology.
During the CES 2017, the company showcased its new Hub Robot, which makes use of Alexa's voice recognition feature.
It has a processing technology that can connect with other smart appliances at home. The Hub Robot can also perform different household tasks such as changing a dryer cycle or starting the air conditioner.
During the same event, LG also introduced the Lawn Mowing Robot. This robot can trim grass reliably, accurately, and safely. It can also identify its own location as well as other obstacles such as hedges, rocks, and trees.
Click to read more
and watch the video
or