Lenovo working on a new foldable laptop
The firm showed-off its concept for a foldable laptop in New York sometime in June this year.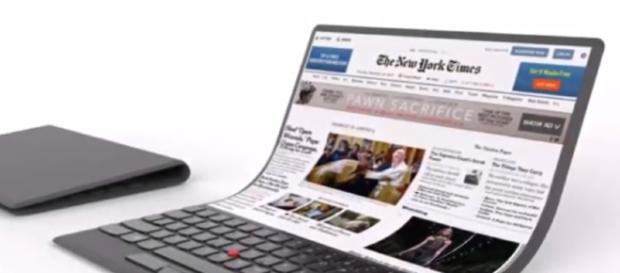 Foldable laptops are a new concept to the technology market. While Microsoft has certainly overtaken most in introducing 2-in-1 convertible devices, it cannot possibly be categorized under the foldable laptops section. Even other tech giants such as Samsung and Apple have refrained from experimenting too much with their respective flagship laptops. However, #Lenovo isn't afraid of doing this.
A new foldable laptop concept
A report by Gizbot that was published online recently suggested that at an event that took place in #New York, Lenovo showed off a new concept-based image of their upcoming #Laptop. The primary attraction of the laptop is quite naturally the foldable technology that it is based upon.
In other words, Lenovo's upcoming laptop will be such that it can easily be folded by its display. While this is the first major highlight of the concept-based laptop that Lenovo showed off at the event, there are two other highlights that should be given equal importance as well. The laptop is further expected to feature new screen technologies. What this means hasn't been specified by the company as yet but it appears that the company will not go with traditional display resolutions.
Sports ultimate specs and features
As the laptop is foldable from its display, the company will have to make use of materials that support this facility. Apart from that, the laptop is also said to feature support for voice controls. Fingerprint sensors and iris scanners may seem like a thing of the past, especially given the fact that Lenovo is planning on getting its upcoming laptop voice-control ready.
The company took to its official Twitter platform to post a few images about it.
The concept-based laptop also appeared to have packed the company's classic red track pointer. The display size in the images appears large and it appears as if there is no space between the display and the keyboard of the device. Moreover, it is difficult to make out whether a trackpad actually exists on the laptop as well. Several reports indicate that the laptop might be accompanied by a stylus pen. This will allow users to gain greater control over the functions that they want to perform on the laptop. No other information regarding these specs has been provided by the company as yet. Therefore, it remains to be seen exactly when the concept-based laptop meets its inception. Pricing and availability regarding the foldable laptop have not been even remotely hinted at by the company or any other sources.