Leaked iPhone 8 component finally confirms a long-speculated feature
A couple of leaked images appear to confirm the rumors that the iPhone 8 will feature wireless charging.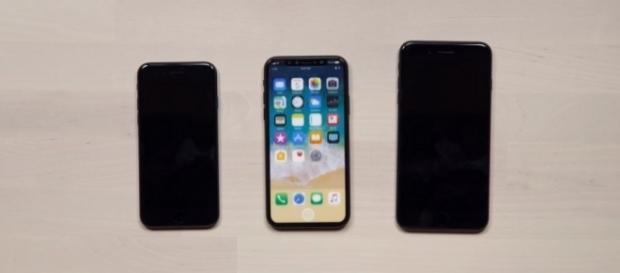 Ever since the Apple hinted that it plans to redesign the next iPhone, rumors have poured out regarding the possible new features that might get included with the upcoming handset. Some of these include stereo speakers, integrated Touch ID under its display, USB Type-C port with fast charging, and wireless charging. The tech giant from Cupertino is expected to announce the yearly refresh of its smartphone lineup in August. Information gathered from around the web suggests that there will be three handsets released this year.
The iPhone 7S, iPhone 7S Plus, and their top-shelf model, the iPhone 8 are all expected to debut sometime next month.
A redesign is in the works
Apple's last few generations of iPhones all appear to look the same somehow.
People point out that it seems to be the thick bezels on the top and bottom of their phones. Fans are already expecting that the iPhone 7S and 7S Plus will be sporting the same look like their predecessors. However, almost everyone believes that the iPhone 8 will break the mold and go for a close-to-bezel-less design.
Some mobile phone case makers claim to have received the measurements and even 3D-printed some samples of the premium model. Rendered images of the smartphone confirm some of the previously mentioned rumors like dual-cameras, tiny bezels, and others. Other speculated stuff like wireless charging and Touch ID placement have yet to be confirmed.
Going wireless
One of the most requested features from its users seems to be finally confirmed by a couple of Leaked pictures. These images supposedly came from suppliers and are considered as solid proof that the iPhone 8 will feature wireless charging.
Experts can confirm that the leak shows two shots of the component used for charging devices wirelessly. This features has been enjoyed by several Android and some Nokia phone models but was never adopted by Apple until now. Other information found on the component also reveals that it might use the Qi standard and not the rumored proprietary technology from the manufacturer.
Missing features and delays
While the news of the iPhone 8 finally getting a wireless charging is certainly good news, more bad news continues to come Apple's way. It seems like one of the favorite security features of the iPhone series might not be included with the premium flagship device. There have been multiple reports in the past claim Apple might abandon the Touch ID feature due to its redesign of the iPhone 8. However, some articles suggest otherwise. The other most concerning news about the upcoming smartphone is the supply chain problems might delay its launch to October, which could affect its sales and inventory in preparation for the holidays.
Click to read more
and watch the video
or