A leaked image gave a glimpse of what the impending bezel-less Sharp handsets may look like.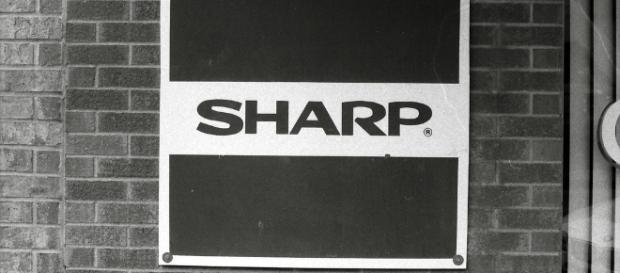 Japanese company Sharp may be nearing the launch of a couple of bezel-less smartphones. The company, which had previously developed the Aquos Crystal, is known to be a trendsetter when it comes to the bezel-less design. Long before Xiaomi released its Mi Mix handset, Sharp's Aquos Crystal had shown the world the beauty in the bezel-less design.
Previous reports suggested that Sharp is not only developing but is planning to launch two bezel-less smartphones in July itself. To corroborate the information a new image has been leaked on the Chinese website Weibo, which is believed to be one of the purported devices that Sharp is planning to unveil.
Leaked picture of Sharp's new bezel-less smartphone
The leaked image does not provide the full view of the upcoming handset but instead reveals the upper part of the display and the complete lack of bezels. It features a cut out in the middle of the screen which is used to place the front facing sensor. Apart from this the display seems void of any bezels and looks ultra modern.
Many people felt that the leaked image bears a striking resemblance to Andy Rubin's Essential Phone, which is also known for the minimal bezels that it sports. The fingerprint sensor of the Sharp device is rumored to be present on the rear side of the handset. It was also revealed that the two impending smartphones from the Japanese company are expected to be unveiled on July 17, which leaves just four more days before the company officially reveals the handsets.
Previous rumors
Near the end of June, first reports of the bezel-less devices being developed by Sharp surfaced. Those reports also revealed that the company would launch two and not one smartphone. The model numbers for the handsets were also noted to be FS8010 and FS8016. Both the handsets were said to be identical to one another except for the chipset powering them. The FS8016 was rumored to house Snapdragon 660, while the FS8010 would most likely sport the Snapdragon 630 SoC.
Apart from the chipsets both models were said to feature 5.5-inch displays with 2K resolutions (2048 x 1080 pixels). Both handsets were also revealed to have a massive body ratio of at least 91.3 percent, which is quite impressive. The handsets will feature either 4 GB or 6 GB of RAM along with dual 12-megapixel rear facing cameras. Both of the smartphones are rumored to be running on Android 7.1.1 Nougat.
AnTuTu benchmarking of the FS8010 also provided some additional information which suggested that the handset will feature an 8-megapixel secondary sensor. It also indicated that the Sharp duo will support 64 GB of internal storage memory. Fans will have to wait until July 17 to know more about the impending Sharp devices.
Click to read more
and watch the video
or