Google Pixel XL 2 will feature very thin bezels
Leaked renders presented fans with the first look at the upcoming Google Pixel XL 2 handset along with certain design features.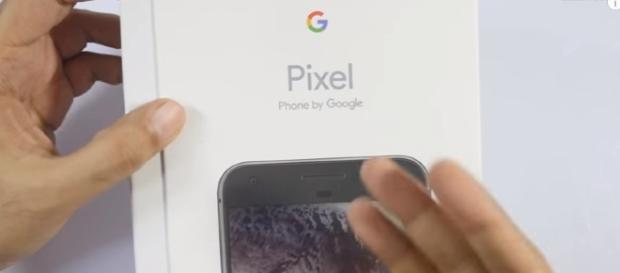 The Google Pixel 2 handsets are one of the most anticipated smartphones that are poised to release this year. Fans have been waiting eagerly for the company to announce the successors of the Google Pixel and Pixel XL devices released in 2016. However, very little information regarding the handsets has been available.
Recently, a render of the larger handset named #Pixel XL 2, has emerged online giving fans the first glimpse of the smartphones. The render was first leaked by Android Police, and the image gives some crucial information regarding the handset's specs and features. The #Leaked Image details the design choices of both the front and back face of the impending handsets.
Rear design of the Pixel XL 2
The render reveals that the Pixel XL 2 bears a striking resemblance to its predecessor, the Pixel XL. However, Google has changed some aspects of the smartphone's design as well. Firstly, the next-gen handset is believed to feature a shorter glass window than its previous rendition. It is also worth noting that this time around Google has mounted the fingerprint sensor below the glass window on the rear face of the phone and not in the middle of the glass like last year's model.
The rear side also offers a glimpse of the camera and the LED flash that the phone sports. Not much can be gleaned from the picture regarding the snapper's specs and capabilities. The render also reveals curved but sharp edges on the back, most likely for providing a better grip to users.
Another odd thing which can be noticed in the image is the absence of any pronounced antenna bands. Google may have found a way to house the feature in such a way that it does not hamper the sleek look of the Pixel XL 2.
Front face of the next-gen phone
The leaked render also showcases what the front face of the device looks like. It reveals a 6-inch display with a tall aspect ratio of 2:1. Much like many other premium handsets in the market today, the Pixel XL 2 sports very few bezels. Even though it does not have as few bezels as the Galaxy S8 duo, it is still a marked improvement from the previous Pixel XL handset.
The display size is also greater than last year's model due to the slimmer bezels. The 3D glass covering the panel gives the device a curved edge look. However, the display is flat and the 3D glass only creates the illusion of a dual curved edge, similar to the Galaxy S8. Other features enumerated through the render include a squeezable edge much like the one sported by the HTC U11. #Google Pixel Xl