iPhone 8 vs. Samsung Galaxy Note 8: Which smartphone is more impressive?
As the upcoming launch of Samsung Galaxy Note 8 and iPhone 8 looms, several interesting details about the smartphones have been released.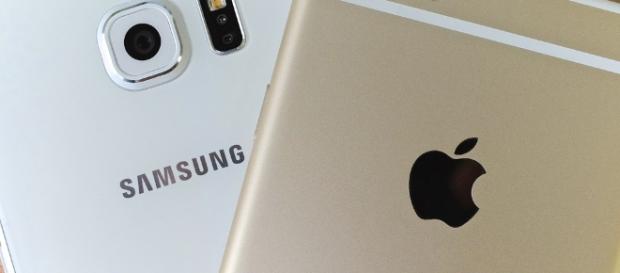 Tech giants Apple and Samsung are going head-to-head as they release their latest flagship smartphones. Apple will release the iPhone 8 in the fall as part of the phone's 10th-anniversary celebration. The South Korean company, on the other hand, will launch its Galaxy Note 8 this August.
In recent months, the online realm has been flooded with rumors and leaks regarding the design and features of the upcoming smartphones. Based on the gathered information, which do you think will be more impressive?
iPhone 8
Considered to be Apple's most significant smartphone to mark its 10th-year milestone, the highly anticipated iPhone 8 is expected to be released on Sept.
6. However, some analysts predicted a possible delay for the looming launch.
📱#iPhone8 will launch in September but in limited quantity according to J.P. Morgan pic.twitter.com/50fzDB6xSC

— DigiSlice® 📱🎮 (@DigiSlice) July 19, 2017
Design, features, and price
The upcoming Apple smartphone model is rumored to sport an innovative physical design with an impressive curved glass, "edge-to-edge display" and "mirror finish." It will also come in four new colors.
The device also comes with exciting features. Based on several reports, the latest iPhone device will have a new OLED display, inductive wireless charging, an upgraded dual-lens rear camera and the speculated biometric recognition modification, which could be integrated into its power button.
When it comes to its price, the device will apparently have a retail value of more than $1,000. As previously reported, the rumored starting price for the latest smartphone is around $1,200.
Meanwhile, the phone will still be equipped with bezels but only 4 mm at the sides. The headphone jack, however, was reportedly ditched. The smartphone will be available in two configurations — one with 128 GB of storage and the other with 256 GB.
New renders of iPhone 8 published for Forbes. #iPhone8 pic.twitter.com/kRV2ACJyYz

— TechloMedia (@TheTechloMedia) July 25, 2017
Galaxy Note 8
The Galaxy Note 8, on the other hand, is highly promoted for its "new design" and massive size.
According to Gordon Kelly of Forbes, the new Samsung device is undeniably the "most important smartphone to date."
Launch date and market value
The smartphone's expected launch date will be on Aug. 23, during the tech giant's "Unpacked" press conference. But it will be officially released to the market in September, with a retail price starting at $1,100.
Find out what it means to do bigger things on 08.23.2017. pic.twitter.com/xsbqdP0QBM

— Samsung Mobile (@SamsungMobile) July 20, 2017
Size, camera plus other details
Deemed as the biggest Samsung premium smartphone ever made, the Galaxy Note 8 will come in a 6.3-inch, 19.5:9 aspect ratio AMOLED display. It also comes with an improved and productivity-centered S Pen stylus that will offer new features such as currency conversion and translation.
The new Samsung smartphone will also sport an all-new design — the almost bezel-less Infinity Display. As for its features, the next-generation Galaxy Note device will feature a dual camera that will support 3x optical zoom, a feature that is better than the iPhone 7 Plus.
As per ValueWalk, the dual camera will come with a "13-megapixel wide-angle lens coupled with a dual photodiode (2PD) and a 12-megapixel telephoto lens with 3x optical zoom and dual 6P technology."
Even though both sensors will reportedly support optical image stabilization (OIS), the publication said this rumored feature should be taken with a grain of salt. The reason? The tech firm launched four new ISOCELL image sensors in Shanghai last month and an ISOCELL Dual was introduced to "support the dual camera systems of its upcoming smartphones."
Apart from the existing Orchid Grey and Midnight Black colors, the new smartphone will come in a new Deep Blue color option. It is also equipped with an Exynos 8895 processor. In Western markets, however, the unit would run Qualcomm's Snapdragon 835 chipset.
Samsung Galaxy Note8 coming in Black, Orchid Grey and a new Deep Blue. At least.

— Roland Quandt (@rquandt) July 22, 2017
The device will also feature a 6GB RAM while an 8GB RAM may be available in Chinese versions. It will be equipped with a 3300mAh battery, a USB Type-C port, a 3.5mm headphone jack, new "AirPod-Style" headphones and a Bixby assistant-dedicated button. Rumors also claimed that the device may be available in 64GB, 128 GB and 256 GB configurations.
Click to read more
and watch the video
or