iPhone 8 price: The 64GB version at $1,100 while the 256GB will cost $1,200
The most exciting feature of iPhone 8 could be its wireless charging function.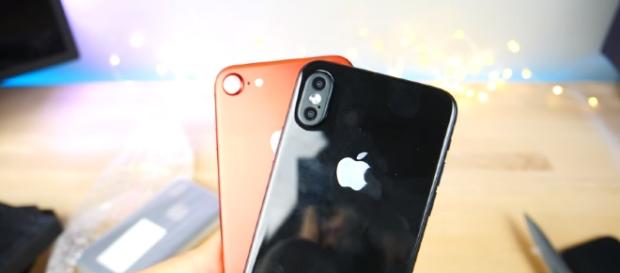 Apple is expected to announce the much awaited iPhone 8 in September. Due to supply chain delays, the actual retail release of the smartphone may be delayed until November. However, tech fans are expecting the company to roll out its new handset with a high price.
Device with $1,200 price tag
As reported by Value Walk, with both the device's 64GB and 256GB models, it is possible that Apple will sell the smaller variant at $1,100, while the bigger storage model will have a $1,200 price tag. However, despite the high price of the device, it would not stop Apple enthusiasts from purchasing the highly anticipated iPhone 8.
9to5 Mac has recently obtained a report from J.P. Morgan, which claims that the upcoming smartphone will be significantly more expensive compared to any previous iPhone, and the new handset will also be up for grabs in more limited quantities. JP. Morgan analyst Rod Hall made it known that the iPhone 8 is expected to have a small amount of late September. But, the production will ramp up in October, and the target output levels will be achieved in early November.
Specs and features
Regarding specs, the iPhone 8 smartphone will boast a nearly bezel-less OLED screen.
The mobile device will be powered by Apple's latest A11 chipset and might come along with a full Wireless charging technology. On the camera front, the handset will feature a vertically aligned dual camera sensor.
Aside from iPhone 8's edgeless OLED display, the smartphone will arrive with other game-changing features, which include an advanced system of 3D lasers. This feature will help improve user experience as it brought more realistic images when running augmented reality (AR) apps. When taking photos, the 3D lasers will provide an improved autofocus functionality as well as better depth detection.
Although Apple fans are looking forward to the 3D lasers feature, Christian Post reported that the inclusion of the feature is not yet finalized by the company, and it will depend on the progress of the tech giant's engineers in inserting the system into the handset.
Furthermore, the mobile device is expected to come along with the usual Touch ID fingerprint scanner for Apple Pay authorization purposes as well as security. The company's intelligent personal assistant, Siri, will also be smarter on the mobile device.
The iOS 11 operating system will bring in more contextual awareness, which means the handset will serve up content based on what the user is doing.
Click to read more
You will watch a video to read the news
or